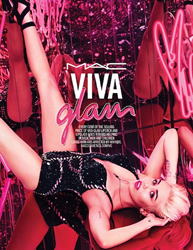 BeautyStat.com continues provide its readers with breaking beauty news including new launches from MAC Cosmetics.
new york, new york (PRWEB) November 12, 2014
BeautyStat.com continues to provide its readers with breaking beauty news including new launches from Mac Cosmetics.
For Holiday 2014, the modern glamour and immaculate style of fashion designer Prabal Gurung comes to Mac (#MacPrabal) in an opulent collaboration featuring smoky, gilded hues and ultra-smart, custom gold packaging.
See photos here: Mac Cosmetics Prabal Gurung Review Swatches Photos
Mac Cosmetics is thrilled to announce the next #VivaGlam spokesperson: Miley Cyrus, arriving January 2015. Every cent of the selling price of #VivaGlam goes toward helping women, men and children living with and affected by HIV/AIDS.
See photos here: MAC Cosmetics Miley Cyrus Viva Glam Review Swatches Photos
And see more of Mac Cosmetics breaking news and photos here: Mac Cosmetics Makeup Collection Reviews Swatches 2014, 2015
You can purchase all reviewed and mentioned items using the beauty comparison shopping site, http://www.BeautyStat.com.
BeautyStat.com is an online beauty retail and influencer platform (that features makeup, skincare and haircare reviews). It has been featured in Womens Wear Daily, LA Times, New York Times, Forbes Magazine, NBC and CBS News. The strength of BeautyStat.com is its captive, engaged and influential 200,000+ community, 190+ blogger network and 40 million social network reach. BeautyStat.com works with beauty brands, retailers and PR agencies to connect them to the BeautyStat community for e-commerce, advertising and rich consumer insights.