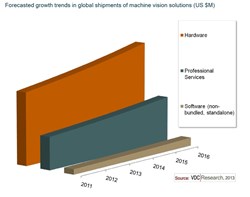 "Vendors will need to develop enhanced capabilities around software and services to drive profitable growth going forward." - Richa Gupta, Senior Analyst
Boston, MA (PRWEB) October 23, 2013
As machine vision hardware increasingly commoditizes, services and innovative software applications will be vital to the future of machine vision vendors, data from VDC Research's Machine Vision program shows. VDC's coverage of the global machine vision solutions market shows that while the overall market for machine vision products will grow to more than $6 billion in 2016 with high single-digit growth rates each year through that period, software and professional services will be the engines of that growth, with services leading the way.
Growth will come from beyond the manufacturing shop-floor, the research shows, with a variety of industries seeking out camera solutions to identify, recognize, and measure the dimensions of products, assets, and people for logistics, traffic monitoring applications, surveillance systems, and a variety of other uses.
Piggy-backing on this trend will be increased demand for application-specific machine vision systems that are ready-to-go, out-of-the-box, and demand for professional services, particularly integration services. Richa Gupta, VDC Research senior analyst, said, "Vendors that can combine these designs and development efforts with vertical domain expertise will be rewarded with demand for higher margin professional services for solution design and consulting, deployment, and integration." She added that "the marketplace needs more comprehensive machine vision solutions providers and vendors that can fill this gap will have distinct competitive advantages to defend against increased commoditization."
While the degree of systems integration services required will vary significantly by project and installation environment, these services will be critical to capturing and retaining customers. "Hardware vendors must not ignore the professional services opportunity. Participating in this segment can strengthen their role and provide higher-margin revenue streams. Savvy suppliers will dedicate resources to develop integration expertise, especially to support tier-1 customers and large multi-national corporations," Richa Gupta said.
About VDC Research
VDC Research is a leading technology market analyst firm, with a longstanding practice covering machine vision and related industrial scanning and image capture technologies. Founded in 1971, the firm provides critical market intelligence to the world's leading technology vendors, who rely on its analysts for the data, ideas and insights they need to make impactful strategic decisions with confidence