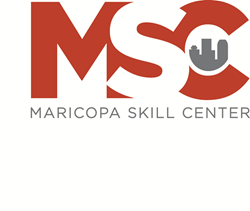 Industry demands out pace the student enrollment in my class, and companies are looking for graduates with CNC Machinist certificates." --Program Instructor Larry Geczy
Phoenix, AZ (PRWEB) March 14, 2014
The Maricopa Skill Center's Precision Machining program is looking for students to fill an industry demand.
Currently the Computer Numerical Control (CNC) Machinist program has 64 students with more than 50 students who are already working or have secured a job in machining.
Wanted Analytics reports that 18 companies in the Phoenix area have current openings.
"Industry demands outpace the student enrollment in my class," said Larry Geczy, instructor for the program. "Companies are looking for graduates with CNC Machinist certificates."
Honeywell, Parker Hannifin, ATSCO, Corning Gilbert, Vitron and Micro-Tronics are among companies who have hired recent MSC graduates.
While earning their certificate, students learn how to efficiently convert raw materials into durable goods by using computer-controlled machines and tools. Graduates are NIMS level 1 certified.
Students have the opportunity to talk with industry leaders through in class presentations and tours at various companies housed in Phoenix. There are about 280 employers in the Phoenix area who have employed machinist in the past four years.
The program takes about one year to complete with an estimated cost of $7,331.00. Starting out salaries average is $12 to $15 an hour.
The Precision Machining Program is housed on GateWay Community College's campus, 108 N. 40th Street, Phoenix.
MSC also offers a Manual Machinist certificate housed at GateWay.
###
About Maricopa Skill Center
Maricopa Skill Center is the Valley's leading workforce development center since 1962. Through education and training, MSC graduates possess the industry-identified skills necessary to achieve long-term economic independence. MSC offers a variety of certificate programs for careers in business, technology, health care, and trades, most of which can be completed in less than a year. Small class sizes, self-paced learning, and hands-on classrooms are just a few of the benefits of training at MSC. Visit http://www.MaricopaSkillCenter.com or call 602.238.4301 to learn more. MSC is a division of GateWay Community College and a part of the Maricopa County Community College District.