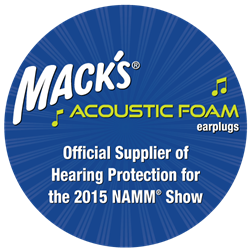 We're proud to further our long-running relationship with NAMM® to help promote the importance of hearing health to sound engineers, music industry professionals and music students. ~ Pete Benner, National Sales Manager for Mack's®
Warren, Michigan (PRWEB) January 14, 2015
Collaborative hearing conservation efforts between NAMM® and McKeon Products, Inc., makers of Mack's® Hearing Protection, will be highlighted at the 2015 National Association of Music Merchants (NAMM®) Show in Anaheim, CA. Complimentary Mack's® Acoustic Foam Ear Plugs will be provided to show attendees via the NAMM® information stations. While Mack's® Earplugs have been available at the NAMM® Shows the past several years, 2015 marks the second consecutive year Mack's® has been asked to be the official supplier of hearing protection for the NAMM® Show.
"We're proud to further our long-running relationship with NAMM® to help promote the importance of hearing health to sound engineers, music industry professionals and music students," says Pete Benner, National Sales Manager for Mack's®.
McKeon's Mack's® Acoustic Foam Ear Plugs are the first foam earplugs designed specifically for musicians. The innovative hollow-cut and grooved design provides clearer acoustics and allows for improved communication. With a noise reduction rating of 20 decibels, these ear plugs provide hearing protection while minimizing the muffled sound often experienced with traditional foam earplugs. Samples of Mack's® Acoustic Foam Ear Plugs will also be available through two Mack's® Hearing Protection distributors, Chesbro Music Co. and LPD Music International.
The cornerstone of McKeon's musicians' line, Mack's® Hear Plugs® High Fidelity Musicians Ear Plugs, feature a unique open-air membrane filter technology that ensures natural sound and comfort while reducing harmful noise. Each package includes 2 comfort tip sizes and 1 set of filters. They have a super-low profile design for inconspicuous wear and soft flanges to ensure maximum comfort. With a noise reduction rating of 12 decibels, these earplugs are great for musicians, concerts, jam sessions, nightclubs, sporting events, shop work, etc.
Mack's® Earplugs samples will also be available via McKeon's other long-standing partner in promoting hearing health, H.E.A.R®, Hearing Education and Awareness for Rockers, in exchange for a small charitable donation. Founded by Kathy Peck in 1988, H.E.A.R.® is a 501(c)(3) nonprofit hearing health organization dedicated to the prevention of hearing loss and tinnitus among musicians and music fans (especially teens) through education and grassroots advocacy. H.E.A.R.® is helping to raise awareness of the real dangers of repeated exposure to excessive noise levels from music.
"With those long rehearsals, jam sessions, and concerts, much of the music musicians are exposed to exceeds OSHA's regulated noise exposure threshold levels where damage to one's hearing can become permanent. A musician's hearing is their most essential asset, the most useful tool in creating their art. If a musician loses their hearing, they are likely to lose their music career as well. Musicians should be as vigilant about protecting their hearing as they are about protecting their instruments, hands, fingers, or lips," says Benner.
About McKeon Products, Inc.
For over 50 years, McKeon Products, Inc. has led the hearing protection and ear care industry with its Mack's® brand line of products. Mack's® provides the #1-selling and original formula Mack's® Pillow Soft® silicone ear plugs. Mack's® is the #1 doctor recommended ear plug brand in the U.S., with an extensive variety of ear plugs designed for sleep, travel, music, swimming and overall noise reduction. Mack's® is the #1-selling brand of ear plugs, as well as the official earplugs of USA Swimming®.
Today, McKeon Products, Inc. manufactures a full range of health care products for consumers, including hearing protection, nasal care and breathing improvement products. The Mack's® line of products includes moldable, pre-molded and foam earplugs, ear drying aids, earwax removal aids, nasal devices, sleep masks, musicians' ear plugs, ear muffs, and screen and lens wipes. McKeon, an ISO 9001:2008 quality certified company, is committed to supplying the highest quality, innovative consumer products.
For more information, please contact:
McKeon Products, Inc.
586-427-7560
http://www.macksearplugs.com