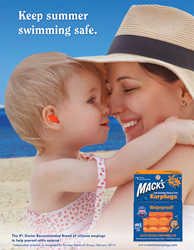 There is a simple solution to help prevent swimmers ear: Mack's® Earplugs.
Warren, Michigan (PRWEB) May 30, 2014
As the #1 doctor recommended brand to protect hearing and help prevent swimmers ear, Mack's® Pillow Soft® and Kid's Size silicone ear plugs have saved over 60 million ears from swimmers ear!
Swimmers ear, or otitis externa, is an infection in the outer ear canal, which runs from the eardrum to the outer ear and can be very painful. It is primarily caused by excess moisture remaining in the ear after swimming, which creates an environment that encourages bacterial growth resulting in pain and discomfort. Treatment such as prescription antibiotic eardrops may clear up the infection; however, if ears are not kept dry, swimmers ear and the pain and discomfort associated with it are likely to reoccur. There is a simple solution to help prevent swimmers ear: Mack's® Earplugs.
There are a number of Mack's® earplug products available to help prevent swimmers ear. Mack's® moldable silicone earplugs create a watertight seal, are very comfortable to wear, and are available in adult or kid's sizes. Mack's® Kid's Size silicone earplugs are larger and safer than other kid's size earplugs and their bright orange color is fun for kids and easy for parents to see, making them a necessity at the beach or pool. Mack's® also offers their AquaBlock® earplug as another option to help prevent swimmers ear. These pre-molded flanged earplugs are constructed of silicone and designed for soft, super comfortable, waterproof protection. Mack's® Dry-n-Clear Ear Drying Aid also helps relieve the discomfort of water-clogged ears from swimming. It is formulated with a unique moisturizing agent that helps dry excess water while conditioning the lining of the ear canal. Let Mack's® help make your summer more enjoyable!
About McKeon Products, Inc.
For over 50 years, McKeon Products, Inc. has led the hearing protection and ear care industry with its Mack's® brand line of products. Mack's® provides the #1-selling and original formula Mack's® Pillow Soft® silicone ear plugs. Mack's® is the #1 doctor recommended ear plug brand in the U.S., with an extensive variety of ear plugs designed for sleep, travel, music, swimming and overall noise reduction. Mack's® is the #1-selling brand of ear plugs, as well as the official ear plugs of USA Swimming®.
Today, McKeon Products, Inc. manufactures a full range of health care products for consumers, including hearing protection, nasal care and breathing improvement products. The Mack's® line of products includes moldable, pre-molded and foam earplugs, ear drying aids, earwax removal aids, nasal devices, nasal sprays, sleep masks, musicians' ear plugs, ear muffs, and screen and lens wipes. McKeon, an ISO 9001:2008 quality certified company, is committed to supplying the highest quality, innovative consumer products.
For more information, please contact:
McKeon Products, Inc.
586-427-7560
http://www.macksearplugs.com