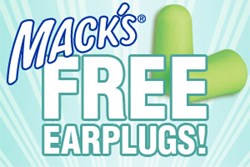 Get in on the action, and get your free ear plug sample today.
Warren, Michigan (PRWEB) August 27, 2013
McKeon Products, Inc., makers of Mack's® ear care and hearing protection products, is giving away free ear plugs to introduce consumers to a simple solution to protect their hearing and improve their health.
Life is noisy. In the course of our daily lives, we often encounter construction projects, sporting events, powered lawn equipment, traffic noise and loud music, each of which can easily generate noise levels that are hazardous to our hearing. Mack's® Earplugs help preserve and protect hearing from these potential hazards.
Additionally, many consumers have trouble sleeping. In fact, the Centers for Disease Control and Prevention has indicated that insufficient sleep is a public health epidemic. One way to help improve sleep quality is to make sure your sleeping environment is quiet. Whether you are trying to block the sounds from a snoring partner, barking dogs, travel noise or a noisy neighbor, Mack's® Ear Plugs have a long history of helping provide a quieter, more restful sleeping experience.
Visitors to http://www.macksearplugs.com can sign up to receive a free sample of Mack's® Ear Plugs. The campaign is live, and samples are shipping. Protect your hearing and improve your health by trying out some ear plugs from Mack's®. Get in on the action, and get your free ear plug sample today.
About McKeon Products, Inc.
Mack's® is the #1 doctor recommended ear plug brand in the U.S., with a variety of products designed for sleep, travel, music, swimming and overall noise reduction. Since 1962, McKeon Products, Inc. has led the retail ear care industry with its original and #1-selling Mack's® Pillow Soft® silicone ear plugs. Mack's® is also the #1-selling brand of earplugs and the official ear care line of USA Swimming.
Today, McKeon manufactures a full range of moldable and pre-molded silicone and foam ear plugs for a variety of uses. The Mack's® line of products also includes sleep masks, screen & lens wipes, ear drying aids and earwax removal aids. McKeon, an ISO 9001:2008 quality certified company, is committed to supplying the highest quality, innovative products at the lowest possible price.
For more information, please contact:
McKeon Products, Inc.
586-427-7560
info(at)macksearplugs(dot)com