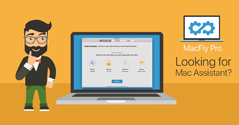 (PRWEB) June 26, 2017
What was planned to be 'another-mac-cleaner' and get lost among dozens of others, luckily came out to be a lightweight intelligent helper with simple design and intuitive navigation.
The company announced release a few days ago and they shared a story with us: "We basically couldn't find an easy app that would show us what's wrong and what to do, when beloved Mac goes slow or freezes. We had to dig through endless 'scans' and numerous tools to get to the point. That's obsolete for the reality where we use artificial intelligence for basically everything – from homes to grocery shopping. So we created MacFly Pro – a simple Mac assistant."
The new application MacFly Pro starts from $3.33/month for a yearly package and now its 7-days free trial option is available for download from official website. MacFly Pro looks like a usual app for Mac maintenance. However, with every usage it learns from user's habits, everyday tasks, software preferences and adjusts its recommendations accordingly. In the end of the day, the Mac gets a personalized treatment, and all the work is done.
What's inside? MacFly Pro consists of two major parts:

Cleaner. The app can clean user and system caches, broken application data, media leftovers, unneeded mail attachments using Cleaner.
Manager. MacFly Pro also handles old files on your Mac or finds any photo duplicates on the Manager page.
How it works?
Depending on what fixes Mac requires the most, the app show it to the user as a fast-access menu in the Assistant — start page of MacFly Pro. No need to look for new improvements on your own, they're delivered as a to-do-list for customer's consideration. Next to each major task (like managing of the duplicates), an estimated time shown (how long it will take to complete it). Out of time? MacFly Pro allows a user to leave it and will remind about it next time.
Overall, the idea of having a personal tech assistant, available 24/7 at our fingertips is a long-awaited step for Mac software industry. Early bird access to MacFly Pro is available with 7-day free trial option, so there's a good timing to try it out. It can be downloaded from the official website macflypro.com.
About MacFly Pro LLC: MacFly Pro LLC is a small tech startup, founded in 2016 by a diverse team of passionate Mac lovers and software geeks. First company's product – MacFly Pro was released in June of 2017.