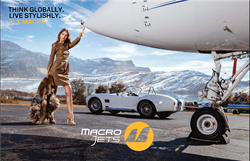 "Thanks to this innovative technology, we are now able to view within seconds instant price quotes on aircraft from anywhere in the world. This technology will change the private aviation industry as we know it. - Dan Fletcher (Co-Founder)
New York, NY (PRWEB) May 10, 2016
Macro Jets, based in New York City distinguishes themselves from the competition by filling a gap in the industry left lacking of consistent quality service. With experience both working within the industry and on the customer side, co-founder Dan Fletcher was inspired to establish a service that would offer the most unique flying experience available on the market. "Once we rid ourselves of traditional thinking we can get on with creating the future." — James Bertrand
The U.S makes up 50% of the private aviation industry, and Macro Jets continues to achieve a reputation in the industry. One of their most significant selling points is to provide their clients with instant quotes within seconds from any destination globally in real time through their website and innovative new Mobile App. Macro Jets offers all this with No Membership Fees or Commitments!
Further, by taking advantage of 'Empty Leg Flights' – Wherein a booked round trip flight is empty of passengers for the return - Macro Jets takes advantage and offers discounts and savings to their clients. Some who would have never imagined flying private could enjoy an affordable endeavor. These discounts can cut anywhere from 10-25% off the cost of a charter and often even greater discounts.
Customers can take advantage of this innovative technology and access their Instant Quote services through visiting the Macro Jets website or by downloading the dedicated Mobile App which will give you instant quotes on over 8,000 private jets worldwide available for charter. This valuable on-demand service includes comparative flight times, aircraft ranges, technical specifications and travel information available within seconds. With a distinguished global vision, unprecedented dedication to customer service and by offering the most unique flying experience available on the market, Macro Jets clients fly with unparalleled comfort and style. Think Globally, Live Stylishly, Fly Macro.
The innovative approach of Macro Jets truly separates them from the competition and provides a powerful solution to all your luxury traveling needs; whether for business or pleasure. To access this groundbreaking services, visit the Macro Jets website or download their Mobile App at no cost!