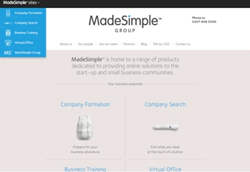 A decade in digital is a lifetime - it was time for a refresh.
London, UK (PRWEB UK) 30 September 2014
MadeSimple is moving to a brand new office located at 20-22 Wenlock Road, London, N1 7GU - right in the heart of 'Tech City'. An apt location considering the company formation, company search, business training and virtual office services that MadeSimple provide - the majority of which are targeted at the start-up and SME arena.
Howard Graham - Founder and CEO of MadeSimple
"This move, which reflects our continued expansion, provides great scope to interact with our customers and to work closer with partners and get even more involved with the start-up community, where we are already such an important player.
Being so close to Tech City and working with so many great brands and with such a great team, we expect this move to be the springboard to further growth leading to great new products, and service as well as an increased emphasis on supporting and helping our customers."
View a map of our new location.
It's all change at MadeSimple because as well as relocating, they have also rebranded. Instead of The Made Simple Group, it is now MadeSimple - with all of their services being rebranded to make it more apparent that they're part of the same 'family' - or as they're now known; 'Your business essentials'. For example, the virtual office service previously known as London Presence is now Virtual Office MadeSimple.
All 'Your business essentials' can be viewed on the relaunched group website http://www.madesimplegroup.com.
Michelle Carvill - Marketing Director
"A decade in digital is a lifetime - it was time for a refresh. We're happy that our identity and environment is in line with who we are right now and where we're heading."
Read more details about our rebrand here
About MadeSimple
Formed in 2002, MadeSimple provides multiple services that help businesses start, run and grow. These include:
Company Formation MadeSimple
Virtual Office MadeSimple
Company Search MadeSimple
Business Training MadeSimple