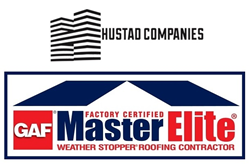 Hustad Companies believes that customer satisfaction is of the utmost importance, which is why we offer a 100 percent satisfaction guarantee on all the work we complete. – Lee Hustad, President, Hustad Companies
Madison, WI (PRWEB) July 11, 2016
Hustad Companies, (http://www.bestrooferwi.com/) Residential and Commercial Wisconsin Roofers, receives GAF Master Elite Roofing Contractor Certification, an honor designating Hustad among the nation's top three percent of roofing contractors. As a GAF Master Elite Roofing Contractor, Hustad Companies must meet the highest standards in the industry including appropriate state licensing and insurance, a superior community reputation, and a solid commitment to continuing technical training and education.
"Hustad Companies believes that customer satisfaction is of the utmost importance, which is why we offer a 100 percent satisfaction guarantee on all the work we complete. Our customers can be confident with the professional team from Hustad working on their project. – Lee Hustad, President, Hustad Companies
Hustad Companies delivers premium quality roofing services at affordable pricing to the greater Madison area including the communities of Cottage Grove and Verona. Always promising superior standards in Madison roofing products and services delivered by well-trained professionals in a trustworthy and timely manner. The outstanding quality and service is further attested to five-star customer service ratings, Better Business Bureau accreditation, and Angie's List Service Awards. In addition to premium Madison roofing services, Hustad delivers quality services including siding and windows.
"At Hustad, we offer our clients the highest quality roofing work available in the business. We are committed to quality craftsmanship in every aspect, no matter how difficult or extensive a project may be. When it comes to efficient roofing installations, the expert team at Hustad Companies is held to the highest standards of workmanship, safety, and service." – Lee Hustad, President, Hustad Companies
Hustad Companies was formed in 1990, by Lee Hustad with the goal of delivering affordable, dependable, trustworthy roofing to members of the local community. Hustad has grown over the years, but the original goal remains the same, building solid relationships with customers by delivering exceptional quality and service on every project from small repairs to total roof replacements.
About Hustad Companies
Hustad Companies has proudly served the greater Madison, WI region since 1990 delivering the highest quality in roofing services, as well as siding and windows. Each product and service carries Hustad's 100 percent customer satisfaction guarantee of dependable service, premium products, and quality craftsmanship.
Hustad Companies Inc, 3236 County Hwy N, Cottage Grove, WI 53527 - http://www.bestrooferwi.com/

Phone: (608) 224-0990 Fax: (608) 839-1708