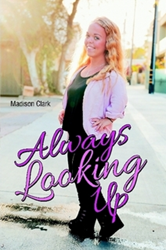 LONG BEACH, Calif. (PRWEB) August 18, 2015
Madison Clark describes herself as a "mountain of a woman" with a giant spirit. Like many people, she has daily challenges she must overcome to accomplish her goals. But unlike most people, her challenges come in a larger form – since she's four feet and one inch tall.
Clark makes her debut as an author with her new memoir, "Always Looking Up" (published by Lulu), in which she discusses her daily challenges and how she overcomes them.
Before she was even born, Clark's parents were made aware their daughter would be born with a type of dwarfism known as achondroplasia. From that moment they knew their daughter would live a drastically different life than the one they envisioned. Unbeknownst to them, Clark would live life in a very big way.
"Always Looking Up" follows Clark as she takes readers through her daily routine and struggles, detailing how she overcomes her various obstacles. She is a firm believer that every bump in the road serves as a learning experience to make one stronger, something she emphasizes throughout her book.
"There are many kids and young adults in today's society who gets teased on a daily basis for looking 'different,'" Clark says. "We are all people that have something to offer in this world and shouldn't be judged by our physical appearance."
Clark hopes her book will shine a new light on dwarfism, the daily challenges those with dwarfism face and the indomitable nature of the human spirit. Most importantly, she wants to remind readers to be "Always Looking Up."
"Always Looking Up"
By Madison Clark
Softcover | 6 x 9 in | 108 pages | ISBN 9781483433264
E-Book | 108 pages | ISBN 9781483433257
About the Author
Madison Clark was born and raised in southern California, living just a few minutes away from the beach. She is currently a full-time college student aspiring to be a speech pathologist. She has a strong passion for writing, meeting new people and educating the world about dwarfism. She invites readers to visit her at http://www.hulamadi.com.
Lulu empowers people of all ages to explore and express their interests, passions and expertise through books, photography and art. Since introducing self-publishing in 2002, Lulu has empowered creators in more than 225 countries and territories to produce nearly two million publications. Lulu Jr. allows children to become published authors, encouraging creativity, strengthening literacy and building self-esteem. Picture.com offers professional photography of collegiate and professional sports, memorable and historic events, fine art and home décor. For more information, please visit lulu.com.