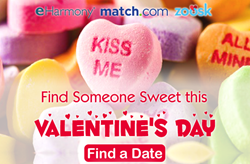 Madrivo's owned and optimized dating portal reached over 37,500 consumers seeking companionship in the weeks leading up to Valentine's Day
New York, NY (PRWEB) February 19, 2015
A remarkable 41.3 million Americans have tried online dating. The online dating industry, which generated 1.3 billion dollars in revenue last year, continues to grow as more and more Americans rely on Internet resources to establish happy, long-term relationships. In response, Madrivo designed an inclusive dating portal which gratifies end users searching for lasting connections. A combination of the company's advanced email marketing strategies and vast network capabilities eclipsed first quarter sales expectations in less than 2 months, making the portal an instant success.
Although not wholly embraced from its inception, online dating has gradually evolved into a universally accepted means of initiating intimate relationships with the help of reputable sites like Match.com, which boasts more dates, relationships, and marriages than any of its competitors. In 2005, a reported 44% agreed that online dating was a conventional social practice; currently, almost 90% of Americans are in support of meeting matches via the Internet. What's more, approximately 33% of people currently in relationships met their partners online. Largely due to technological advances transforming traditional methods of courting, most Americans not only agree with online dating, they consider it one of the best options for finding love in the digital era.
Madrivo's owned and optimized dating portal combines niche interests with mass-market appeal. After months of carefully evaluating prominent dating sites on the market, Madrivo built a landing page that takes into consideration the romantic needs of all consumers regardless of race, gender, age, and lifestyle choices. The website features the five most popular dating sites in the country including Zoosk, which caters to over 26 million members across 80 countries.
Director of Business Development, Ninfa Cabello, explained the vision behind the dating portal, saying, "It's simple. By nature, humans seek lifelong companionship and, as leading innovators in the digital marketing space, Madrivo's team developed an enhanced mechanism to find millions of Americans meaningful relationships that could potentially change their lives."
In the past six weeks, Madrivo has been especially diligent about optimizing and maximizing the portal's reach with the overall goal of connecting consumers with suitable companions in time for Valentine's Day. While the company anticipated that dating sites with the most members would also generate the most traffic, websites like OurTime, a senior dating site designed exclusively for users aged 50+, have been equally popular. Consequently, Madrivo reached nearly 37,500 Americans by email and its dating portal experienced an exponential increase in daily traffic volume. Both of these accomplishments speak to the dexterity and prowess of the company's expanding team.
Experts speculate that nearly 70% of American couples will have met online by 2040. Additionally, sites like SingleParentMeet that increase the likeliness of member compatibility by targeting a unique demographic will thrive as the industry realigns itself to meet market demands. With the use of techtelligence and an unwavering commitment to constant exploration, Madrivo will build upon the principles behind the dating portal to find consumers the satisfactory relationships they deserve.
Press Contact:
Ms. Sarah Dysthe
press(at)madrivo(dot)com
3889 S Eastern Ave
Las Vegas, Nevada 89169
United States