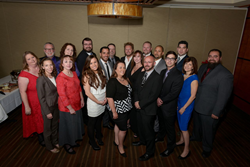 Madrivo is a world-ranked leader in the performance marketing industry largely due to the innovative synergy between senior management and their employees, placing the team on the cutting edge of industry advancements.
New York, NY (PRWEB) February 11, 2016
Based on a comprehensive review of the company's profile, an extensive survey completed by employees, and demonstrated efforts to provide "exceptional human resources" to its workforce, Best & Brightest ranked Madrivo in top 100 employers throughout the US. This nomination substantiates the company's "impressive commitment" to bettering the lives of its employees through various initiatives.
So what earned Madrivo such a prestigious award? Upon review of the results, Madrivo is a forerunner due to its approachable leadership dynamic, merit-based compensation structures, and an emphasis on cultivating a thriving company culture. Madrivo's employees unanimously agreed that their employer has fostered a people-first environment that equips them with the guidance, resources, and motivation needed to succeed in their roles. Nate Seibert, Madrivo's Media Coordinator and most-veteran employee validated the company's integrity, saying, "working for Madrivo can't be described as anything less than life-changing. From the start, I've worked in a forward-thinking environment that facilitates personal and professional growth for everyone involved. We're a top contender in our industry and it's largely due to our management team providing us with the tools required to remain on the cutting-edge of advancements in the affiliate marketing space."
Since Madrivo's inception, the executive team has exercised an open-door policy, offering their acumen to employees in need of advice. They also encourage the team to 'manage-up,' inspiring people to think beyond their designated role and suggest improvements that will have a lasting effect on organizational processes. Not only does this alleviate some of the pressure senior managers experience by expecting larger contributions from their subordinates, but, more importantly, it presents employees with the opportunity to shine in a new capacity. 'Managing up' allows team members to actualize their value by assuming a proactive role in achieving organizational goals. Employees who embrace this concept are also more likely to receive raises and be promoted due to their demonstrated dedication.
In terms of compensation, Madrivo recently introduced a unique reward system that recognizes an employee's extraordinary behavior for the sake of supporting their colleagues. In contrast to the competitive commission and bonus structures that Madrivo also offers, this new program rewards acts of kindness and character. The managing members introduced this karmic initiative to highlight the importance that generosity and moral fiber hold in a happy, healthy work environment. There is not a set list of actions that earn employees predetermined rewards; instead, employees must embody the benevolent values Madrivo sets forth to be compensated in unexpected yet gratifying ways.
Madrivo's emphasis on a thriving workplace culture stems from several studies that draw a correlation between a person's quality of life and their overall career satisfaction. Happy, healthy employees are more likely to remain with their current employer and perform at a higher level than those who are unhappy with their jobs. In fact, a rich company culture can result in employees that are 200% more productive with turnover rates as much as 350% less than the average firm. Relatedly, Madrivo founded their culture on the principles of respect and empowerment, knowing that the company's sustainability would rely heavily upon a well-nurtured workforce.
Madrivo is honored to accept this award and will strive to be nominated as one of the top 100 places to work year after year, not because of the trophy, but because this achievement symbolizes the high quality of life experienced by the company's employees.
Do you have what it takes to join Madrivo's team? Check out their career page for information on open positions.