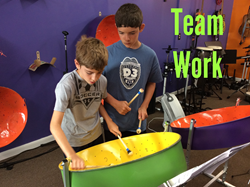 Creating a community of impassioned musicians.
Tampa, FL (PRWEB) October 08, 2015
Maestro Maines Studio LLC, located in South Tampa, is the only private music school where musicians can be a part of a Caribbean style Steel Pan Band.
The Maestro's headlining group, 'Show Steelers' will be making its debut performance on Sunday, October 11th @ the University of Tampa for the Roboticon event. Show Steelers' Steel Drum ensemble is open to musicians 1st grade - adult. Maestro Maines Studio LLC also features a beginner adult jam band, private and group piano lessons, guitar lessons, drum lessons and partners with local businesses and schools to provide scholarship-based lessons to deserving musicians.
Maestro Maines Studio LLC is a comprehensive music service provider offering age-specific group music lessons, hosting quarterly recitals and community performance opportunities. Maestro Maines Music School contributes to the South Tampa community by directly investing in children, schools and churches in the area by providing scholarship music lessons, music performances and participating in community fundraisers.
Maestro Maines Studio LLC is passionate about training musicians and providing a dynamic environment for ultimate student achievement. This family-owned music school fosters a teamwork atmosphere where respect is modeled, and a fun, friendly studio is provided for musicians of all skill levels and abilities. For musicians preparing for Carnegie Hall or simply interested in trying music lessons, Maestro Maines Studio LLC will adapt to each musician's needs.