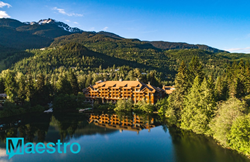 The biggest benefit for us is that all financial data is in one place and can be accessed and shared immediately with all who need it. We just love the time savings and the system accuracy.
MARKHAM, Ontario (PRWEB) June 22, 2021
The AAA four-diamond Nita Lake Lodge in Whistler, British Columbia, is seeing significant operating efficiencies thanks to integration between it's Maestro property-management system and Intuitive Hospitality's Hotel-In-A-Box financial management solution. The resort destination, which has earned the 2021 Conde Nast Johansens Luxury Hotel, Spas and Venues Award for Excellence, and the 2021 TripAdvisor Traveler's Choice Award, is using advanced Microsoft technology so that its finance teams can access the system from anywhere since all information is stored in the cloud and automatically backed up to ensure 100% redundancy. Everyone can easily move information with only a few clicks of the mouse.
"Hotel accounting can be an extremely tedious job," said Morgan Pickering, Nita Lake Lodge CFO. "Without an automated solution like Hotel-In-A-Box, we were doing a lot of manual data entry. Now, our entire accounting process is streamlined since it automatically pulls financial data from Maestro and other systems. What used to take two hours can now be done in five to 10 minutes. Today we don't have to pay someone to create spreadsheets and comb through night audit paperwork; that's a huge benefit in this economy where human resources are limited. With Hotel-In-A-Box integrated to Maestro, I know that the software from each provider is always up to date. If we need customization, both companies are willing to develop it for us quickly. More importantly, both stand head and shoulders above their competition, as each evolves to fit our specific needs and application.
"The biggest benefit for us is that all financial data is in one place and can be accessed and shared immediately with all who need it," he said. "We just love the time savings and the system accuracy. Like many hotels, we had to scale back due to COVID-19, but even with a minimal staff, I can still access everything I need to know about our daily performance, whether I'm on or off site. And, if Maestro issues a system update, Steve is already aware of it and evolving Hotel-In-A-Box to work seamlessly with Maestro. It is truly an enviable vendor relationship."
Hotel-In-A-Box was founded in 2010 by Steve Bowers, a 20-year hospitality industry veteran working with corporate hotel companies such as Marriott International, Fairmont Hotels & Resorts, Westmont Hospitality Group, and others in Director of Finance, Controller, and Manager of Operations Accounting roles. Bowers said he created Hotel-In-A-Box after seeing a significant gap in the independent hotel market for a financial management solution that could move data automatically from manual Excel spreadsheets to the cloud. He left the hotel operations side of the business to develop a technology solution that is easy to afford, super easy to use, and extremely customizable to meet the diverse needs of each property in this market segment.
"One of the first things I developed as part of Hotel-In-A-Box was an integration to Maestro PMS, as it is the No. 1 cloud hosted and on-premises PMS solution for independent hotels," Bowers said. "Most times independents have five or more disparate hotel systems with no way of talking to each other. Maestro, with its close to 700 integrations to peripheral technologies, makes it easy for Hotel-In-A-Box users to pull end-of-day financial reports from within the PMS and its connected systems, such as the Silverware POS, Spa Booker software, and others. Then, Hotel-In-A-Box analyzes the data and checks it against 100 control points to produce accurate financial reports which are then emailed to whomever needs them."
Hotel-In-A-Box automatically checks to make sure the Market Segment Report in Maestro agrees with total room revenues for the day. It also checks to make sure that sales taxes are reconciled properly, checks cashier deposits and payouts, and checks that all room charges between the POS / front desk / spa systems and others are captured and properly posted. Without deep integration to Maestro, most of this type of reporting and bank reconciliation was being done manually, and it was fraught with errors. Even more importantly, all data can be accessed remotely as needed. Today, Hotel-In-A-Box has created a seamless automated experience for hotels that eliminates all manual work and moves a hotel's financial processes to the cloud where a paperless office can truly exist.
Warren Dehan, Maestro president, said he is thrilled that Pickering and Nita Lake Lodge are so pleased with the integrated solution. Nita Lake Lodge is leveraging the following Maestro modules: Analytics, Front Office, Yield Management, Gift Card, Retail POS, Sales & Catering, Activities Management and a collection of mobile and contactless tools.
"It's been enjoyable working with Steve and the Intuitive Hospitality team over the years," Dehan said. "Back when this relationship was first established, we had no idea just how relevant and useful this integration partnership would be to independent hotel operators. But as Morgan can attest, the more tech vendors work together to develop solutions that streamline operations, cut costs, and allow hoteliers to do more with less, the better off we — as an industry — we'll all be. I'd like to thank Steve for developing this superior technology and for continuing to work with Maestro on providing unparalleled support, and we are proud to call Nita Lake Lodge a thriving customer for many years."
# # #
About Maestro
Maestro is the preferred Web Browser based cloud and on-premises PMS solution for independent hotels, luxury resorts, conference centers, vacation rentals, and multi-property groups. Maestro's PCI certified and EMV ready enterprise system offers a Web browser version (or Windows) complete with 20+ integrated modules on a single database including mobile and contactless apps to support a digitalized guest journey as well as staff operations. Maestro's sophisticated solutions empower operators to increase profitability, drive direct bookings, centralize operations, and engage guests with a personalized experience from booking to check out and everything in between. For over 40 years Maestro's Diamond Plus Service has provided unparalleled 24/7 North American based support and education services to keep hospitality groups productive and competitive. Click here for more information on Maestro. Click here to get your free PMS Buying guide.
About Intuitive Hospitality and Hotel-In-A-Box
Hotel-In-A-Box is a fully integrated finance and technology solution designed specifically for the hospitality industry. Until now enterprise accounting systems were only available to large corporate hotel brands and cost tens of thousands of dollars. Utilizing advanced Microsoft Technology and Sage accounting software, users can access the system from anywhere with a computer, internet access, and Microsoft Remote Desktop for either PC or Mac. All information is stored in the cloud and automatically backed up to ensure 100% redundancy. A suite of integrated solutions are available to create a unique configuration for each customer. Hotel staff can easily move information from Property Management, Point of Sale, Payroll and Banking systems with only a few clicks of the mouse. Advanced management reporting is also included using industry best practices. The initial setup can be completed within three business days. Scroll down or click here to view one of the following videos Hotel-In-A-Box - Overview, Hotel-In-A-Box – Demonstration, Financial Planning & Reporting – Overview, Financial Planning & Reporting Preparing a Plan. For full details on Hotel-In-A-Box please email info@hotel-in-a-box.com or call (604) 710-8649.