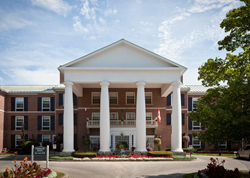 Maestro Analytics Big Data view helps us make smarter decisions on rates and marketing.
Toronto (PRWEB) August 05, 2015
Metrics show that the hotel business changed last year. This is big news for hotel operators. 66% of hotel guests are between the ages of 18 and 48. Half of these are mobile Millennials who operate from the palm of their hand. How well do operators know them? What do they eat, when do they stay, what do they like to do? How do they communicate? Maestro Analytics Business Intelligence system tracks each behavior on property for more effective email marketing.
E-Blast marketing doesn't work anymore
"We know who our guests are because Maestro Analytics business intelligence knows. All our guests' stay information and preference data is in Analytics, we use it to market to them personally and effectively," this from Libby Stowe, Front Office Manager at Campbell's Resort in Washington. "E-blast marketing doesn't work anymore because guests are not the same. Independent operators need to target their marketing programs better than chains. Analytics lets us do this." Click here to learn more about Maestro's BI and marketing solutions.
Maestro PMS™ is the leading solutions provider for independent hotel operators. Maestro Analytics Business Intelligence records all guest data and enables independents to easily combine preferences to create personalized email campaigns that work. "With Maestro Analytics our marketing results have been more successful. We narrow our criteria and easily target the right guests at the right time," Stowe said.
"It is essential that a multi-property company leverage 'Big Data' with a BI system like Maestro Analytics. I use Analytics every day," says Michelle Miller, Corporate Director of Revenue for Vintage Hotels representing properties in Niagara on the Lake, Caledon and Stratford, Ontario. "I data-mine Maestro Analytics to monitor our best selling rate types, most valuable markets, trending guest origins and other factors. These promotions are very effective because they address a guest's interests."
Miller also filters data to determine capture by day of week and length of stay. "For our multi-property operation, it is of significant benefit to filter data both by property and globally pending the initiative. Maestro Analytics Big Data view helps us make smarter decisions on rates and marketing."
Maestro PMS was developed from the ground up as a true hospitality enterprise system that offers a comprehensive suite of 20+ integrated modules sharing a single database.
For more information on Maestro PMS or for a demo of the Maestro Property Management Suite's more than 20 modules please contact Maestro PMS at 1.888.667.8488 or email info(at)maestropms.com.
Exchange ideas and connect with Maestro PMS on Twitter, Facebook, and LinkedIn.
Maestro Property Management Solution
Enhance guest service, improve efficiency, and maximize online and offline revenue with Maestro PMS, the industry's most robust and flexible resort software and boutique hotel software solution empowering leading full-service hotels, luxury resorts, multi-property groups, conference centers, condominiums, and timeshare properties. Solutions include Front Office (PMS), Accounts Receivable, Analytics and Business Intelligence, Sales and Catering, Multi-Property Management, Condo & Timeshare Owner Management with Web Functionality, Spa and Activities, Web Booking Engine, Real-Time Yield Management, Dynamic Packaging Golf, CRM, Guest Experience Measurement, CRO, GDS Two-Way XML Connectivity or Integration, Membership, Work Orders, Fine Dining and Retail POS, Online Table Reservations with Web Booking, Concierge, and Guest Experience Measurement. The Maestro PMS is database independent (ODBC Compliant) and may be deployed via Windows, UNIX, Linux, Terminal Services, hosted, and Web platforms.
About Maestro PMS
Maestro PMS is recognized in the hospitality industry for its standard-setting Diamond Plus Service and robust integrated Maestro resort hotel software technology. With more than 30 years' experience dedicated to developing technology solutions for the hospitality industry, Maestro PMS is a partner who understands you need a scalable, flexible PMS that works the way you do. Maestro applications are engineered for operators who need to manage their enterprise in a real-time environment for the utmost operational efficiency, productivity, control, and profitability.