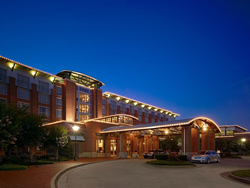 We incorporated Maestro's eLearning training courses into our property instruction guides to train new staff quickly and efficiently.
Markham, ON (PRWEB) April 27, 2016
Maestro PMS announced that The Chattanoogan implemented the Maestro eLearning system to reduce staff training time and increase staff productivity. High turnover of line staff and property managers is a way of life in the hotel business. So is increased technology use. Continuous staff training is a challenge to efficient operations at many properties. Maestro PMS, with 35+ years of hotel solutions experience, created an eLearning system that helps property staff and managers quickly become experts in system use and operations.
Greg Jones, front office manager at The Chattanoogan hotel said, "Training at an independent hotel is different than at a chain property. Our front office team is responsible for training new employees. We incorporated Maestro's eLearning training courses into our property instruction guides to train new staff quickly and efficiently." Maestro eLearning offers 31 courses that are fully-integrated with the Maestro Front Office System and its other modules.
"We developed Maestro eLearning to enable hoteliers to use our Maestro systems to its full potential," said Warren Dehan Maestro PMS President. "eLearning is integrated with Maestro so staff can get quick answers to system questions while they are on the job. They can pause the training session and try out the function in a training version or on the live software. Hotel staff can also take system courses when they are off property from our eLearning website." The system tracks which courses staff members take, what lessons they complete and their scores on proficiency exams.
eLearning is part of Maestro's free Diamond Plus Service and includes online webinars. "Between our free Diamond Plus 24/7 support help desk, free upgrades and eLearning we help our clients get the best use of their system," Dehan said. "We continuously ask our operators for insights on how we can provide more service. We created eLearning to address their staff training challenge."
"Knowing how to use the Maestro PMS system is essential," Jones said. "Maestro provides upgraded releases regularly and eLearning tutorials that teach our team how to set up new functionality that makes a smoother operation."
The Maestro Enterprise Property Management hotel software suite of 20+ solutions is the industry's most robust and well supported system for independent hotels, resorts, and multi-property groups. Click here for more information on how to reserve, engage and socialize with Maestro PMS.
For more information on Maestro PMS or for a demo of the Maestro Property Management Suite, please contact Maestro PMS at 1.888.667.8488 or email info(at)maestropms.com.
Exchange ideas and connect with Maestro PMS on Twitter, Facebook, and LinkedIn.
Maestro Property Management Solution
Enhance guest service, improve efficiency, and maximize online and offline revenue with Maestro PMS, the industry's most robust and flexible resort software and boutique hotel software solution empowering leading full-service hotels, luxury resorts, multi-property groups, conference centers, and vacation rental properties. Solutions include Front Office (PMS), Accounts Receivable, Analytics and Business Intelligence, Sales and Catering, Multi-Property Management, Condo Owner Management with Owner Web Portal, Spa and Activities, Web Booking Engine, Real-Time Yield Management, Dynamic Packaging, CRM, Guest Experience Measurement, CRO, GDS/OTA Two-Way Integration, Membership, Work Orders, Fine Dining and Retail POS, and Concierge. Maestro PMS is database independent and may be deployed on-premise or in the Cloud via Windows, Linux, and Browser-based platforms.
About Maestro PMS
Maestro PMS is recognized in the hospitality industry for its standard-setting Diamond Plus Service and robust integrated Maestro resort and hotel software technology. With more than 35 years' experience dedicated to developing technology solutions for the hospitality industry, Maestro PMS is a partner who understands you need a scalable, flexible PMS that works the way you do. Maestro applications are engineered for operators who need to manage their enterprise in a real-time environment for the utmost operational efficiency, productivity, control, and profitability.
About The Chattanoogan
The Chattanoogan, the recipient of numerous local, regional and national awards and accolades, has 199 upscale guest rooms and suites, three outstanding dining establishments, a rejuvenating day spa and a 25,000 square-foot conference center. The property is conveniently located within a two-hour drive from Atlanta; Nashville, Tenn.; Knoxville, Tenn.; Huntsville, Ala.; and Birmingham, Ala. It is within walking distance of the city's museums, galleries, retail stores, restaurants and The Tennessee Aquarium.
For more information about The Chattanoogan or reservations, call (423) 756-3400, toll free (877) 756-1684, or visit the hotel's Website at http://www.chattanooganhotel.com.