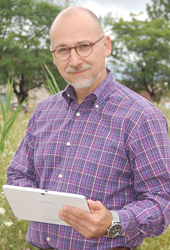 Maestro Web delivers our complete 21-module Maestro system based on years of Maestro PMS development experience. This is the same stable Maestro PMS with the same functionality, but now as a browser-based solution for the cloud.
(PRWEB) April 22, 2015
Maestro PMS™ continued expansion of its new-image launch for 2015. Warren Dehan took the stage at Maestro PMS' 2015 Users Conference in Santa Cruz, California today to announce the company will expand its offering to include new Analytics Business Intelligence reporting to bring a wealth of new data to clients. Dehan also introduced flexible pricing and system adoption options to enable operators to implement Maestro PMS with a new monthly solution subscription model that includes software licensing and support to simplify adoption. Click here to learn more about Maestro's solutions for profitability and productivity.
New Price Model 'Instantly Lowers Maestro's Entrance Cost'
"Maestro PMS' new image is more than just a great logo and website. We are launching a new monthly subscription model that enables independent operators to realize the value of Maestro's robust functionality with a simplified purchase option," said Warren Dehan, Maestro PMS President. "Our new price model instantly lowers Maestro's entrance cost. Operators can implement Maestro PMS' through a monthly subscription fee that is ideal for full service independents. They only have to pay for installation and training to realize all of Maestro's benefits."
Dehan noted that Maestro's new monthly subscription option includes the industry's leading Diamond Plus Service. Diamond Plus Service is perfect for independent operators because it provides professional support services customarily only found with franchise programs. Diamond Plus Service includes:

On Demand Live 1-on-1 Refresher and Advanced Training
Maestro for Beginners Education Program
Self-Paced E-Learning Webcasts & Online Tutorials
Live Training Webinars
Self-Solve Online Knowledgebase
Transition Assistance
Professional Maestro Productivity Audit
Version Upgrades and Enhancements
24/7 North-American Based Support
Maestro PMS' new monthly subscription offering is available for both on-premise Maestro PMS and cloud-based Maestro Web. "Maestro Web delivers our complete 21-module Maestro system based on years of Maestro PMS development experience," Dehan said. "This is the same stable Maestro PMS with the same functionality, but now as a browser-based solution for the cloud." Maestro Web is totally flexible to meet all preferences. Operators can access the system with any browser, including Safari, Chrome, Internet Explorer, and Mozilla. Users can operate Maestro Web concurrently with the client/server version of Maestro.
Dehan announced that Maestro also strengthened its Maestro Analytics Business Intelligence module. The new BI solution provides enhanced data views that let independent operators manage their businesses more intelligently with decisions based on accurate, real-time performance data.
For more information on the Maestro PMS or for a demo of the Maestro Property Management Suite's more than 20 modules please contact Maestro PMS at 1.888.667.8488 or email info(at)maestropms.com.
Exchange ideas and connect with Maestro PMS on Twitter, Facebook, and LinkedIn.
Maestro Property Management Solution
Enhance guest service, improve efficiency, and maximize online and offline revenue with Maestro PMS, the industry's most robust and flexible resort software and boutique hotel software solution empowering leading full-service hotels, luxury resorts, multi-property groups, conference centers, condominiums, and timeshare properties. Solutions include Front Office (PMS), Accounts Receivable, Analytics and Business Intelligence, Sales and Catering, Multi-Property Management, Condo & Timeshare Owner Management with Web Functionality, Spa and Activities, Web Booking Engine, Real-Time Yield Management, Dynamic Packaging Golf, CRM, Guest Experience Measurement, CRO, GDS Two-Way XML Connectivity or Integration, Membership, Work Orders, Fine Dining and Retail POS, Online Table Reservations with Web Booking, Concierge, and Guest Experience Measurement. The Maestro PMS is database independent (ODBC Compliant) and may be deployed via Windows, UNIX, Linux, Terminal Services, hosted, and Web platforms.
About Maestro PMS
Maestro PMS is recognized in the hospitality industry for its standard-setting Diamond Plus Service and robust integrated Maestro resort hotel software technology. With more than 30 years' experience dedicated to developing technology solutions for the hospitality industry, Maestro PMS is a partner who understands you need a scalable, flexible PMS that works the way you do. Maestro applications are engineered for operators who need to manage their enterprise in a real-time environment for the utmost operational efficiency, productivity, control, and profitability.