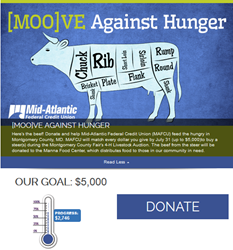 [MOO]VE Against Hunger Campaign is truly about a community coming together to help each other, and CafeGive's social media apps help MAFCU expand their community.
MD (PRWEB) July 14, 2014
Maryland may be best known for crabbing and the Chesapeake Bay, but cattle are on the mind of one Montgomery County, MD-based credit union. On July 18, Mid-Atlantic Federal Credit Union launched a whole new kind of social media campaign VE Against Hunger] that uses texting and Facebook to support a local food bank. The goal? To fight hunger by buying and donating 4-H steers to the Manna Food Center.
Through July 31st, the nonprofit financial cooperative is asking its community to donate money to help buy steers at the local 4-H livestock sale in August. This is the second year that MAFCU is buying steers to donate to the food center, but the first time that the credit union is involving the public and using social media.
Last year, the 1,029lb steer purchased and donated by MAFCU (cost: $3,300) produced enough meat to feed about 400 families. This year the credit union is hoping to double, if not triple, that donation.
To reach this goal, MACFU is using CafeGive Social's fundraising apps to bring in as many donors and people as possible. Through the end of the month, people can visit MAFCU's Facebook page or website to donate, and add their names if they choose to the virtual donor wall. Mid-Atlantic Federal Credit Union is matching donations up to $5,000: that's a potential donation of $10,000, or three steers.
If you want an even easier way to donate, simply text "BEEF" to 55155 and follow the instructions to donate and share [MOO]ve Against Hunger. Donations are updated in real-time, and the apps make it simple for people to share the campaign through social media channels, expanding the reach of the initiative and ensuring that even more people can take part and donate.
The campaign comes at a time when essential organizations like Manna Food Center need it the most. Across the country, food banks are receiving fewer donations from grocery stores. As a result, places like Manna are more dependent than ever on people like you and me to make sure that they receive enough fresh food.
Which is where civic-minded organizations like MAFCU come in: by using social media to run the campaign VE Against Hunger campaign: Mid-Atlantic Federal Credit Union], Mid-Atlantic Federal Credit Union not only raises awareness about Manna Food Center and the need many families have for nutritious food, but it also gives all of its members and greater community a way to get involved. When the credit union purchases steers on August 15th from the local 4-H, it's also supporting youth empowerment programs and sustainable, humane farming practices.
The result: an entire community can be lifted by a single campaign. [MOO]VE Against Hunger Campaign is truly about a community coming together to help each other, and CafeGive's social media apps help MAFCU expand their community beyond just Upper Montgomery County, Maryland, to potentially the entire world.
About CafeGive Social: CafeGive is the only company that combines social media marketing with meaningful, action-oriented cause marketing applications. Using our product, CafeGive Social, we have helped companies, agencies and nonprofits of all sizes connect with customers to build brand, enhance reputation, raise awareness and effect social change. Headquartered in Portland, Oregon, CafeGive is a privately held company. For more information, visit http://www.cafegive.com.