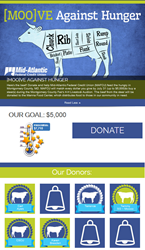 'We knew from day one that we wanted to do something out of the ordinary for Manna Food Center: something that no one has done before,' said Marc Wilensky, VP of Marketing for Mid-Atlantic Federal Credit Union
MD (PRWEB) September 22, 2014
Any company can give a nonprofit a donation check, but how many of them can give a cow? Last month, Mid-Atlantic Federal Credit Union ran a wildly successful social media and in-branch fundraiser, using tools from cause marketing leader CafeGive Social and raising over $7,700. Last week, the Maryland credit union used that money to buy and donate 4-H steers to a local food bank.
For it's [Moo]ve Against Hunger initiative, Mid-Atlantic Federal Credit Union ran a whole new kind of giving campaign that combined in-branch donations, texting, and social fundraising. The goal was to raise enough money to buy at least two steers at auction to donate to Manna Food Center, and the credit union partnered with cause marketing leader CafeGive Social to make their goal a reality.
This is the second year that MAFCU bought steers to donate to the food center, but the first year that the credit union involved the public and used social media. Last year, the credit union raised enough money to buy and donate a 1,029lb steer (cost: $3,300). This year, MAFCU wanted to triple that amount by matching donations up to $5,000, and used CafeGive Social's fundraising apps to bring in as many donors and people as possible.
"We knew from day one that we wanted to do something out of the ordinary for Manna Food Center: something that no one has done before," said Marc Wilensky, VP of Marketing for Mid-Atlantic Federal Credit Union, about the unusual campaign. "The food center is always in need of quality protein, so we decided to purchase a steer during the county fair 4-H Steer Auction. CafeGive Social was up to the challenge, and we used their tools to create an online fundraising campaign that worked with our in-branch fundraising."
From July 1 through July 31st, MAFCU members and their families could visit their local branch and "purchase" a cow-shaped paper cut-out for one dollar, and display it with their name on the branch wall. At the same time, people could visit the credit union's Facebook page or text "BEEF" to 55155 from anywhere to donate to the cause, and "pin" a virtual cow to the social donor board. MAFCU matched donations up to $5,000.
The social apps worked in tandem with Mid-Atlantic Federal Credit Union's in-branch fundraising. In addition to raising money through its three branch locations, supporters, partners, and vendors from across the country donated online and and through text. Overall, [MOO]ve Against Hunger raised $7,718 - surpassing Mid-Atlantic Federal Credit Union's $5,000 fundraising goal.
"Many of our members do their banking online and don't come into branches on a regular basis," said Marc. "The social and texting components really helped break down the barrier of getting people involved even if they don't come into the branch or aren't yet a member. With the fundraising app, people all of the country as well as our partners could donate online, and then instantly share it with their friends and networks."
The Germantown-based credit union used the money to buy three steers at the county fair 4-H Livestock Auction on August 15th, including the largest steer of the night, weighing in at nearly 1,600 lbs. In total, Mid-Atlantic Federal Credit Union was able to donate over 1,800 lbs of high quality beef to Manna Food Center -- that's enough to feed nearly 1,200 families.
Through [MOO]ve Against Hunger, Mid-Atlantic Federal Credit Union not only helped its local food bank; it also raised awareness about Manna Food Center and supported local 4-H programs, which empower youth through life-skill development and sustainable farming practices. The fun and powerful campaign united MAFCU's entire online and offline community around a common goal: to end hunger.
About MAFCU: Based in Germantown, MD., Mid-Atlantic Federal Credit Union (MAFCU) is a not-for-profit institution managed for the sole benefit of its members, and offers many financial services at better rates and fees. Profits are returned to MAFCU members in the form of higher savings rates, lower loan rates, and lower fees. MAFCU currently has over 25,000 members and over $270 million in assets. Membership is open to anyone who lives, works, worships, volunteers or attends school in Montgomery Country, Maryland. For more information, please visit http://www.mafcu.org.
About CafeGive Social: CafeGive is the only company that combines social media marketing with meaningful, action-oriented cause marketing applications. Using our product, CafeGive Social, we have helped companies, agencies and nonprofits of all sizes connect with customers to build brand, enhance reputation, raise awareness and effect social change. Headquartered in Portland, Oregon, CafeGive is a privately held company. For more information, visit http://www.cafegive.com.