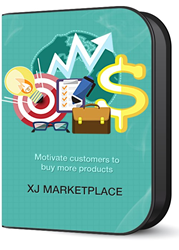 The XJ Magento multi seller marketplace extension will provide ample conversion and maximize business revenue.
Fremont, CA 94536 (PRWEB) December 08, 2014
XJ Magento multi seller marketplace extension is integral to a thriving e-Commerce marketplace
With the upsurge in e-Commerce business globally, online shopping portals are catering to the most mundane necessities of the consumer. XhtmlJunkies proudly announces the XJ Magento marketplace extension as a 'one-stop solution' for managing multiple sellers from a single Magento platform.
In the digital market space, satisfaction of the seller and the buyer is necessary to promote the venture. XJ Magento multi vendor marketplace is the perfect answer to the dilemma that business owners confront when planning to set up an online business that supports multiple sellers/vendors. This is a website marketplace script that allows sellers to add and edit their products. Online visitors may select multiple products from different sellers. A secure payment process ensures the transfer of funds from the buyer to the seller's account when the checkout process is complete. Sellers can manage product shipment to customers. Customers can post comments and rate sellers based on the service received.
Benefit from XJ Magento multi seller module and optimize Return on Investment (ROI)
XJ Magento multi seller marketplace supports virtual, grouped, downloadable and regular products and comfortably adapts to Responsive Web Design. It works with both Magento Community and Enterprise editions and provides excellent multi lingual support. Web admins can view each seller's transactions. This Magento extension provides an excellent opportunity to venture investors who may enjoy large turnovers with minimum venture capital investment.
Welcome to the seller's paradise
Each seller may have an individual 'Account' section with product catalogs, banners and a customized logo. Assigning categories and subcategories for the displayed products, tracking orders and product commissions are also possible. Adding 'tier-pricing' and domestic or international shipping rates, as applicable for each product, is also possible. Advanced dashboard features display 'real time' statuses of the products ordered. Sellers can be notified by email upon successful order placement by a customer. Sellers have complete access to all payment details to date. Additional information can be displayed in the 'Product detail' page. Web admins can manage individual commission rates for each seller, including activation, product approval and account moderation. A registered user can also sell products in this eMarketplace.
Satisfaction guaranteed for each online buyer
Online customers can buy products from any seller and receive instant email confirmations upon product purchases. There is also an option to provide feedback and ratings for sellers within 30 days from the date of purchase. Payments are made using a secure service.
Online eMarketplace software for every entrepreneur
The XJ Magento multi seller marketplace extension optimizes conversion by increasing web traffic, which adds a terrific boost to order generation opportunities and escalating business revenue.