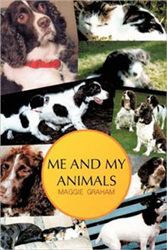 I hope all animal lovers, wherever you are in the world, will love this book.
LITHERLAND, England (PRWEB) November 05, 2014
Author Maggie Graham looks back at the animals that she's known throughout her life in her new memoir, "Me and My Animals" (published by AuthorHouse UK).
Growing up in Liverpool in the 1950s, Graham recalls that she felt a connection to animals for as long as she can remember. She sets out to chronicle these relationships in a detailed memoir that gives a glimpse into her family life and the animals that have stood by her through the years.
"If you love and care for animals as much as I do, I hope you will find this an inspiring read," Graham says to readers.
An excerpt from "Me and My Animals":
"Naturally, as soon as she'd gone I was back on the floor rolling about with my best furry pal trying as best I could to brush his scruffy coat. In the afternoons we'd all go for a walk in Stanley Park to feed the ducks and Buddy could chase his ball to his hearts content. The lake was so big (or so it seemed to me then) and the ducks so beautiful and tame, they weren't even bothered by Buddy's presence, nor he by theirs."
"I hope all animal lovers, wherever you are in the world, will love this book," Graham says. "It was born out of my unconditional love of all animals."
"Me and My Animals"
By Maggie Graham
Softcover | 6 x 9 in | 392 pages | ISBN 9781456787646
E-Book | ISBN 9781456787653
Available at Amazon and Barnes & Noble
About the Author
Maggie Graham was born in Liverpool in 1950. In 1969, she became the youngest stewardess to be employed by Caledonian Airways. After spending some time in Mount Gambier, South Australia she returned to the U.K. where she qualified as a dental hygienist with the army in Aldershot. She has lived up and down the country and has now done full circle, returning to her roots. She lives in North Liverpool with her third husband, Trevor and Coco and Mia, her two dogs.
AuthorHouse UK Ltd., an Author Solutions, LLC self-publishing imprint, is a leading provider of self-publishing, marketing, and bookselling services dedicated to serving authors throughout the United Kingdom. AuthorHouse UK is committed to providing authors the best self-publishing experience through a wide array of products and services designed to help individual authors realise their unique creative vision. AuthorHouse UK assigns each author a personal publishing, marketing, and book consultant to provide professional guidance throughout the self-publishing process. To date, AuthorHouse UK has released more than 6,500 titles. For more information or to begin publishing a book today, visit authorhouse.co.uk or call 0800 1974150 or follow @AuthorHouseUK on Twitter for our latest news and updates