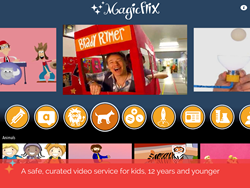 Magicflix delivers worry-free parenting and delighted kids. Kids love our app experience and parents love our curated videos.
Redmond, WA (PRWEB) November 03, 2014
Today, Magicflix, a Techstars Seattle 2014 company, announced the beta release of the Magicflix iPad app with a promise to deliver a unique experience for kids of all ages. The safe, curated kids video service delivers worry-free videos from around the world in categories such as Music, Spanish, Math, Science, and Animals. Magicflix is the only streaming service that allows parents to add their own playlists from YouTube. Magicflix engages kids with edutainment videos that are curated to be safe, age-appropriate and positive.
"Parents around the world won't have to be concerned with what their kids watch with Magicflix. Screen time on mobile devices has risen by more than 400% in the last two years and there has never been a viable solution for parents who want to be worry-free until now," said Magicflix CEO, Mamtha Banerjee. "Every single video is safe, age-appropriate and positive; it's our mission to make the digital space a safer place for our children."
Magicflix licenses an eclectic collection of videos from national and international partners that include Math rock band – The Digits; Youtube hits – Eric Herman, Steve Spangler Science; Award winning kids independent Musicians – Okee Dokee Brothers, Recess Monkey, Gustafer Yellowgold, The Not-its, Brady Rymer, Sara Quintanar; International video content creators – Kinderzoo, Monster Entertainment and many more.
Unlike other streaming services, Magicflix is designed for kids and kids only. Magicflix spent a year collecting age-based insights and data analytics. Through visual discovery, the streaming service delivers an intuitive and immersive experience.
Magicflix's founders have a long history in the tech sector and hail from tech behemoths such as Facebook and Travelocity.
The Magicflix beta is now available for iPad. Magicflix also expects the Android and iPhone Apps to be out soon as well. For more information on Magicflix, please visit http://www.magicflix.com
About Magicflix:
Magicflix is the positive, safe, curated video service for kids, 12 years and younger, on mobile devices. Magicflix aggregates videos from partners across the world in multiple categories such as Music, Animals, Math, Science, News, and Spanish. Magicflix helps families around the world by taking the worry out of online video, through its educational and entertaining content. Magicflix is a Techstars Seattle 2014 startup and their mission is to make this digital space a safer place for children.