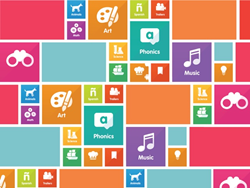 Kids love watching videos on their smartphones and tablets, and most turn to YouTube - which is on average 3 clicks away from inappropriate content. Watchables is the solution - it's a safe, curated, ad-free and personalized video experience for kids.
Redmond, WA and San Francisco, CA (PRWEB) March 28, 2014
Magikflix Inc, a mobile video edutainment company and Fingerprint, a mobile technology company, today announce the launch of Watchables, a safe, curated, ad-free video mobile app designed for kids aged 2-12. Watchables is available for both iOS and Android and provides a host of streaming videos designed to entertain and educate kids through a safe and closed environment so parents no longer need to worry about kids navigating to inappropriate digital content. The collaborative effort leverages Fingerprint's successful model for engaging kids and families through dedicated mobile networks, and Magikflix' kid's video app proficiency and global content partner relationships.
"Kids love watching videos on their smartphones and tablets, and most turn to YouTube - which is on average 3 clicks away from inappropriate content," says Nancy MacIntyre, CEO and founder of Fingerprint. "Watchables, solves a real need giving kids their own personalized environment that serves up both fun and educational video content curated by age."
Watchables is delivered to families on Fingerprint Play, the award winning mobile learn-and-play network for kids, offering games, e-books and now, videos, in a completely kid-safe environment. Watchables videos are organized into playlists within categories like Math, Science and News for older kids and Phonics, Animals for toddlers and pre-school aged children. Currently there are short and long-form videos available for free. In addition, in the future parents will be able to unlock videos through in-app purchases. Parents can now also set viewing time limits.
"Watchables offers curated, engaging, exclusive play and learn videos from award winning video content partners. Through Watchables, Magikflix ensures even more distribution for its partners," says Mamtha Banerjee, founder, CEO of Magikflix. "Our publishing platform makes it easy to localize and personalize content that has been hand-picked by our curation team and launching with Fingerprint gives us an existing audience looking for play-and-learn content for kids."
Magikflix' curation process ensures that videos are safe, age-appropriate and engaging. Watchables delivers videos from a number of independent original video content creators including The Digits, who offer live action narrative comedy that uses interactive gameplay to introduce math concepts, Kidsenz, who produce news for kids in an engaging, informative and fun manner, and Eric Herman, creator of viral, witty and memorable videos like the Elephant Song.
About Magikflix, Inc.
Magikflix is a mobile video edutainment company offering safe and fun curated video applications for kids 12 years and younger. Magikflix aggregates content from partners across the world in multiple categories such as Music, Phonics, Animals, Math, Science, News and Spanish. Magikflix helps families around the world by taking the worry out of online video, through its educational and entertaining content. Magikflix is based out of Seattle, and was founded by techie mom-preneurs who wanted to provide their children a safe way to watch videos on their mobile devices. Meet us at http://www.magikflix.com.
About Fingerprint, Inc.
Fingerprint is a global mobile technology company that powers games and curates play-and-learn content to targeted customers around the world through dedicated mobile networks. The company is growing at a rapid rate as global brands look to efficiently and effectively reach parents and children with highly relevant entertainment, where they are, which today, is nearly all mobile. Fingerprint works with industry leaders that license Fingerprint's technology platform and content solution. Fingerprint powered networks are also creating new distribution and monetization opportunities for kid-mobile content developers. Fingerprint is funded by leading consumer tech investors including Corus Entertainment and K2MediaLabs. For more information, visit fingerprintplay.com.