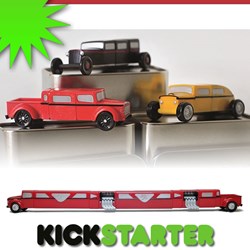 With only 3 MagModz toy cars . . . you would have over 240 combinations possible!
Independence, KS (PRWEB) September 04, 2013
After three years in development, inventor John W. Davolt has launched MagModz tricked-out cars on Kickstarter.com. This unique magnetic toy car line allows kids of all ages to create their own custom cars.
John Davolt says he never dreamed that he would develop a new toy concept in what he calls one of the most popular toys in the world . . . the toy car. MagModz magnetic cars give kids a truly magical play experience.
Magmodz is the most playable toy car ever designed, fueling creativity and driving imagination. The cars are similar in size to a 1/64 scale toy car, with each car consisting of three magnetic encapsulated pieces, thus allowing every piece of every car to be completely interchangeable. In addition, the Trick 'N Trade accessory package contains a limo section, an extended cab section, and a cool engine section, allowing even more design possibilities. In fact, if you had all three models of MagModz cars, in all three colors (red, black and yellow), you would have over 240 combinations! Each car comes packaged in its own cool embossed tin box, which interacts with the magnetic cars, creating even more fun! Just Snapit'n Drive . . . for literally hours of entertainment and creative imagination.
The company's goal is that Kickstarter will produce the funds necessary to complete the tooling process. There are agreements already in place, with reputable toy sales representatives, which will place MagModz in gift and toy stores across America . . . just in time for the Christmas season! For complete details about MagModz, and to find out how you can get involved, click here on the Kickstarter launch link.
On launching MagModz, Mr. Davolt states, "I feel like the Biblical character, David, going up against the big giants," and although he has no plans of slaying the giants, he says it would feel great to make a little ripple in the big pond with this magical magnetic toy car invention!"
Join the fun, support the Kickstarter campaign, and follow this promotion through social media connections at http://www.magmodz.com.
#MagModz
#MagModzFacts
Contact Info:
Wes Peterson
PR Relations
772-341-6724
email: wes(at)wesleypeterson(dot)com