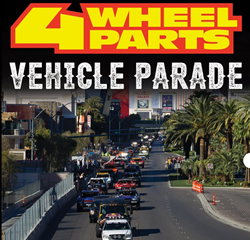 This event provides off-road racing fans a unique opportunity to see the racecars up close while sharing in the legacy and pageantry of the Mint 400.
Compton, California (PRWEB) March 10, 2015
North America's leading retailer of off-road truck and Jeep aftermarket parts, 4 Wheel Parts, is slated to sponsor the upcoming Mint 400 Off-Road Vehicle Parade beginning at 1 p.m. Wednesday, March 11. A crowd favorite of the week long event festivities, the parade route begins at South Point Hotel & Casino and ushers in the 2015 Polaris RZR Mint 400 presented by General Tire. The Mint 400 race happens this Saturday, pitting a colossal field of 330 entries dueling in the desert in the annual grueling off-road competition.
"4 Wheel Parts is honored and excited to present the Mint 400 Parade for the third consecutive year," says Transamerican Auto Parts Director of Marketing, Dan Mickelsen. "This event provides off-road racing fans a unique opportunity to see the racecars up close while sharing the legacy and pageantry of the Mint 400."
Legendary off-road racer and former Mint 400 champion "Lightning" Larry Ragland will lead the procession of custom fabricated racecars down the fabled Las Vegas Strip. The parade will travel the length of Las Vegas Blvd. and plans to wrap up with the Freemont Street launch party featuring food, music, beer and Mystik Lubricants presenting the KMC Wheels Pit Crew Challenge Qualifying Competition. Teams looking to compete in the Mint 400's Pit Crew Challenge will have a chance to qualify and vie in the finals held Thursday night at 6 p.m.
Memorable Mint 400 parades of the past were held on Fremont Street and the tradition began again in 2013. The Mint 400 race itself was shelved and on hiatus for 20 years before resuming in 2008. At retail stores and online, 4 Wheel Parts will give away different Mint 400 products like free souvenir race course maps and official programs while customers will receive free Mint 400 t-shirts with any in-store purchase.
Known as "The Greatest Off-Road Race in America," the Mint 400 began in 1967 and today stands as a classic 400-mile clash between the world's premier off-road racers. Celebrities who have competed in past races include actor/director Steve McQueen, actor James Garner and rock and roller Ted Nugent. This year, actors Patrick Dempsey and Dax Shepard are scheduled to race. Gonzo journalist Hunter S. Thompson paid tribute to the iconic race in his novel Fear and Loathing in Las Vegas, pushing the competition into the pop culture pantheon.
About 4 Wheel Parts As the global leader in off-road, Jeep and aftermarket performance products, 4 Wheel Parts has 69 locations across North America. 4 Wheel Parts Service Centers install each and every 4x4 product we sell. Our success is fueled by offering the nation's largest inventory of off-road products including MagnaFlow Exhaust systems, lift kits, Rockstar Rims and more. 4 Wheel Parts serves customers across the country and around the world with the belief that Life is Better Off-Road™. Visit us online at 4wheelparts.com or reach us by phone toll-free at 877-474-4821.