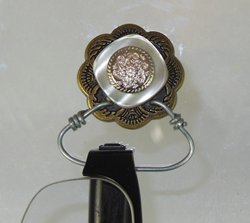 Italian Magnetic Eyeglass Holders - so beautiful, so simple AND so functional!
Columbus, OH (PRWEB) September 11, 2014
Nifty-Nifty.com, the leading online retailer of nifty, innovative products as seen on TV, is excited to provide answers to the frequently asked question 'what are Italian Magnetic Eyeglass Holders and how do they work?'
'We at Nifty-Nifty.com have been inundated with questions from curious consumers about our Italian Best Magnetic Eyeglass Holders, and we'd like to answer these questions, here and now", states Nifty-Nifty co-founder, Wendy Miller.
She continues, "Magnetic eyeglass holders were recently presented on Shark Tank, and they drove the world crazy. Our Italian magnetic eyeglass holders are fabric-friendly eyeglass holders that attach almost instantly to clothing, and stay put all day long, regardless of activity level.
Simply place the magnetic portion on the inside of your shirt, and the gorgeous decorative portion on the outside - hang your eyewear from the provided hanger hoop, and be on your way."
Discover even more about Nifty-Nifty.com's Italian Magnetic Eyeglass Holders, here:
*http://www.nifty-nifty.com/italian-best-magnetic-eyeglass-holders/
Available in several unique classique designs, from the understated, Lacey Diagonal, to divinely decadent, Brassy Swirls, Nifty-Nifty.com's Italian Magnetic Eyeglass Holders are the most attractive way for any man or woman to keep up with their eyewear.
These light weight, limited addition eyeglass holders, bedecked with vintage Italian accents, will never damage clothing, will always make a statement, and will most likely become one's absolute favorite hands-free fashion accessory.
About Nifty-Nifty.com   
Nifty-Nifty.com caters to a diverse clientele from all over the globe. As the world's leading online retailer of innovative versatile products, Nifty-Nifty.com specializes in nifty products such as Biker Purses, Phubby, Specs-In-A-Sec magnetic eyeglass holders, Cell-Fie HipBand Cellphone Holders and Cross Body Cell Phone Purses, among others. All products are offered at highly competitive prices with zero charge shipping in the USA and Canada. 
http://www.Nifty-Nifty.com
Tel. 858-248-2302