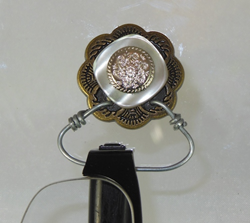 Ladies are pleasantly surprised by the classy way to keep their sunglasses on them.
Grass Valley, CA (PRWEB) July 31, 2014
Italian Best Magnetic Eyeglass Holders, the fabric friendly way to keep up with one's eyewear, created by celebrity-endorsed fashion accessory innovators, Nifty-Nifty.com, are slated to take the Nevada County Fair by storm this summer.
"Our Limited Edition Italian Best Magnetic Eyeglass Holders have been making the rounds, and we've found that their following just keeps getting bigger and bigger," says Nifty-Nifty co-founder, Wendy Miller. "The next stop where we're pulling out all the stops with our Nifty products will be at the Nevada County Fair, the week of August 6th – 10th, where Fair-goers will be able to see, sample, and decide for themselves, just what makes our Italian Best Eyeglass Holders so incredibly special."
Discover more about Nifty-Nifty.com's Italian Best Magnetic Eyeglass Holders, here:
*http://www.nifty-nifty.com/italian-best-magnetic-eyeglass-holders/.
Nifty-Nifty.com's 'Unique Classique' Italian Eyeglass Holders are a fashion-forward way to keep track of one's eyewear at all times. By simply placing the magnet portion on the inside of a favorite shirt, sports coat, neck scarf or tie, the intricately decorative portion on the outside, and hanging eyewear from the perfectly-sized provided hoop, consumers are afforded the peace of mind that comes with all day eyewear security and accessibility.
Whether prescription eyeglasses, readers, or sunglasses, Nifty-Nifty.com's Italian Best Eyeglass Holders, which come in a variety of refined styles, will see to it that consumers never again lose their favorite pair.
About Nifty-Nifty.com 
Nifty-Nifty.com caters to a diverse clientele from all over the world. As the world's leading online retailer of innovative, versatile products, Nifty-Nifty.com specializes in nifty products such as Biker Purses, Phubby, Specs-In-A-Sec magnetic eyeglass holders, Cell-Fies and Cross Body Cell Phone Purses, among others. All products are offered at highly competitive prices with zero charge shipping in the USA and Canada.
http://www.Nifty-Nifty.com
Tel. 858-248-2302