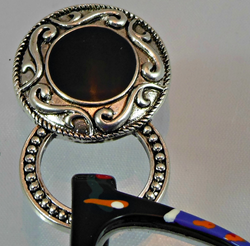 We have replenished our entire stock of Magnetic Eyeglass Holder designs, in each of our three distinct lines, so there are plenty of eye-catching options to choose from
New York, NY (PRWEB) January 29, 2015
Nifty-Nifty.com, the world's largest outlet for one of kind, innovative, fashion accessories, is pleased to announce that all designs are once again available in each line of their magnificent Magnetic Eyeglass Holders.
"We at Nifty-Nifty.com are starting the new year off right! We have replenished our entire stock of Magnetic Eyeglass Holder designs, in each of our three distinct lines, so there are plenty of eye-catching options to choose from," states Wendy Miller, co-founder of Nifty-Nifty.com. "Now is a great time to stock up on all your favorites – while supplies last!"
View Nifty-Nifty.com's full line of Magnetic Eyeglass Holder Designs, here:
*http://www.nifty-nifty.com/readerest/
Magnetic Eyeglass Holders, by Nifty-Nifty.com offer a fun and unique way to keep up with one's eyewear. Each of Nifty-Nifty's three Holder lines: Spec-In-A-Sec, Italian Best, and Creita Eyeglass Holder Necklace, offer convenient, fabric-friendly, and highly fashionable eyeglass security and accessibility.
These compact, lightweight gadgets are easy to take anywhere, and provide all day style for those who wear eyeglasses, readers, or sunglasses. The Specs-In-A-Sec and Italian Best Magnetic Eyeglass Holders are also ideal for non-eyeglass wearers, as they can hold fashion scarves, pens, Id's or trinkets, adding an element of pizzazz and functionality to any outfit.
Gone are the days of boring eyeglass chains, or sticking one's eyeglasses atop their head, only to find them full of hair product – or worse – missing. With Magnetic Eyeglass Holders, one is able to keep up with their eyewear in a beautiful way, day in and day out, at any activity level.
About Nifty-Nifty.com 
Nifty-Nifty.com caters to a diverse clientele from all over the globe. As the world's leading online retailer of innovative, versatile products, Nifty-Nifty.com specializes in nifty products such as Biker Purses, Phubby Wrist Cellphone Holders, Specs-in-a-Sec magnetic eyeglass holders, Cell-Fie HipBand Cellphone Holders and Cross Body Cell Phone Purses, among others. All products are offered at highly competitive prices with zero charge shipping in the USA and Canada.
http://www.Nifty-Nifty.com
Tel. 858-248-2302