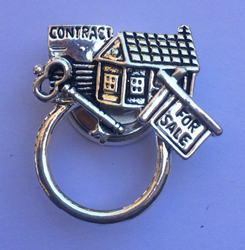 These little conversation starters are just so darn nifty.
Charleston, WV (PRWEB) September 09, 2014
Nifty-Nifty.com, fashion gadget innovators and creators of 'As Seen on TV' hands-free accessories, has just released a brand new design in their line of Specs-In-A-Sec Magnetic Eyeglass Holders, specifically tailored to suit the taste of real estate professionals.
"We at Nifty-Nifty.com are excited about our new, realtor-inspired, Specs-In-A-Sec Magnetic Eyeglass Holder design. Crated with house, key, sale sign, and contract logo, these little gadgets are just right for those who rent, sell and flip homes," says Wendy Miller, co-founder of Nifty-Nifty.com. "While wearing one of these magical little numbers," Miller continues, "Realtors will always have their specs ready to go when it comes time to sign a contract."
To view the new Specs-In-A-Sec design
*http://www.nifty-nifty.com/specs-in-a-sec-best-magnetic-eyeglass-holder/
Specs-In-A-Sec Magnetic Eyeglass Holders are the unique way for consumers to keep up with their eyewear. By simply placing the strong magnet portion on the inside of one's shirt or jacket, and the decorative portion (complete with hanger hoop) on the outside, consumers are able to enjoy all day, instant access to their favorite spectacles or sunglasses, without ever having to worry about losing another pair.
Nifty-Nifty's truly unique Specs-In-A-Sec Magnetic Eyeglass Holders are 100% fabric-friendly, light-weight, and incredibly versatile. Even non-eyeglass wearers enjoy wearing them, as a fashion scarf, ID, pen, or pendant holder. Some even choose to wear their Specs-In-A-Sec all by themselves in place of a fashion pin, because these little conversation starters are just so darn nifty.
Visit Nifty-Nifty.com to see all the Specs-In-A-Sec varieties, including, Colorful Butterfly, Black Circle, Silver Swirl, Red Hat, Peace Love, and the brand new Realtor design.
About Nifty-Nifty.com
Nifty-Nifty.com caters to a diverse clientele from all over the globe. As the world's leading online retailer of innovative, versatile products, Nifty-Nifty.com specializes in nifty products such as Biker Purses, Phubby, Specs-In-A-Sec magnetic eyeglass holders, Cell-Fie HipBand Cellphone Holders and Cross Body Cell Phone Purses, among others. All products are offered at highly competitive prices with zero charge shipping in the USA and Canada.
Tel. 858-248-2302