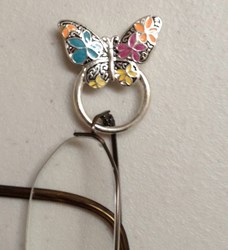 Specs In A Sec Magnetic Eyeglass Holders to the rescue …no more searching for glasses, no more losing glasses!
Seattle, WA (PRWEB) December 26, 2013
Nifty-Nifty.com, the leading online retailer of nifty, innovative products as seen on TV, is excited to discuss the new trend in eyeglass holders and how eyeglass holders have evolved with the introduction of magnetic eyeglass holders.
We all know that it's hard to read if you can't see. Those of us who wear glasses know this all too well, and we know the torture of the eyeglass hunt. Who hasn't searched for their glasses when they were on their head, or they were wearing them.
Thank goodness for eyeglass holders and always knowing where our eyeglasses are. Eyeglass holders have evolved? Let's take a look at that ...
With more than half the population wearing eyeglasses or sunglasses, it's no wonder someone came up with the eyeglass holder idea.
First Came Eyeglass Holder Chains...
It seems that eyeglass chains, sometimes referred to as 'granny chains' have been around forever. People have complained about these necessary eyeglass holders because they get in the way when we bend down, or if we bend to pet our dog, we get doggie kisses all over our lenses. Gardening with eyeglass holder chains is near impossible. So someone came up with the idea of eyeglass holder pins.
Then Came Eyeglass Holder Pins...
After eyeglass holder chains, eyeglass holder pins seemed to be the answer. At least now we could keep our eyeglasses on our body and look pretty at the same time. Great idea ... except for the holes we had to poke in our clothes to attach these eyeglass holder pins. It was still worth it because we need our glasses, which we keep misplacing.
Then Came Magnetic Eyeglass Holders...
ReadeRest was invented and it was a great invention with two magnets to hold our glasses securely on our clothing. Featured on Shark Tank, ReadeRest was considered a break-through. Now ReadeRest has evolved and an even better eyeglass holder has been created ~
Meet Specs In A Sec Magnetic Eyeglass Holders...
Specs In A Sec Magnetic Eyeglass Holders are so pretty and with so many stylish designs, we can't have only one. The beauty of Specs In A Sec magnetic eyeglass holders is that when our glasses are not resting in this rest for our readers, we have a really trendy looking brooch.
"Having sold innovative, trendy eyeglass holders for quite some time," explained Wendy Miller, co-owner of Nifty-Nifty.com.  "We are excited to introduce the newest trend in eyeglass holders, with Specs-In-A-Sec Magnetic Eyeglass Holder. We offer Specs-In-A-Sec Magnetic Eyeglass Holder with zero shipping costs to our USA and Canadian customers. Our Canada shipping program has been so successful we are extending it!"
For more information on the Specs-In-A-Sec Magnetic Eyeglass Holder go to:

About Specs-In-A-Sec Magnetic Eyeglass Holder
With this nifty Specs-In-A-Sec strong magnetic eyeglass holder the consumer has the perfect gift. There is no need to poke holes in clothing, simply place the pretty side of the nifty Specs-In-A-Sec magnetic eye wear hanger on the outside of the clothes and the magnet on the inside and as easy as that there is a place to hang eyeglasses, sunglasses, readers, eye wear or it can be used as an ID Holder or for a scarf.  This eyeglass pin is magnetic so it does not make holes in clothing.
No more having glasses on the head or tucked into the V of clothing, no more strings around the neck, no more searching for glasses, no more scratching glasses, no more bending down and losing glasses. Having glasses/sunglasses/readers/ID easily on the blouse, looking pretty is what Specs-In-A-Sec allows. Specs-In-A-Sec Magnetic Eyeglass Hanger measures approx 1 inch by 1.5 inches.
Specs-In-A-Sec Magnetic Eyeglass Holder is available at Nifty-Nifty, where we have free shipping and excellent customer service.
About Nifty-Nifty.com
Nifty-Nifty.com is the world's leading online retailer of innovative, nifty products. The company specializes in online retailing of products such as the Readerest, Phubby, Cross Body Cell Phone Purses, Hip Klips, Lil Flower Cell Phone Purse and Wallet and other innovative online products at the best prices with no charge shipping in the USA and Canada.
http://www.Nifty-nifty.com
Tel. 858-248-2302