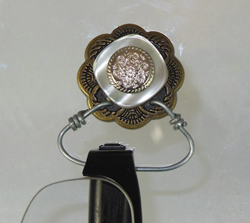 We are catering to Australia too, making ordering Italian Vintage Magnetic Eyeglass Holders easy and affordable
Little Rock, AR (PRWEB) May 22, 2014
Australian consumers need wait no longer. Italian Magnetic Eyeglass Holders, which are hand made with vintage Italian accents, by Nifty-Nifty.com has arrived!
This seemingly magical little magnetic eyeglass holder is fashionable, hands-free and so functional, has been so popular in both the U.S. and UK, that Nifty-Nifty.com has decided to branch out even further, now offering hassle-free shipping to Nifty consumers in Australia as well.
Wendy Miller, co-creator of 'As seen on TV' Nifty products, states, "We have had an overwhelming number of requests from our Australian friends to make Nifty-Nifty.com products available where they live. Well, we've listened, and now, Australian consumers may have their Italian Vintage Eyeglass Holders delivered directly to their door. What's more, International shipping is a flat rate of only $5.00."
Want to know more about Italian Vintage Magnetic Eyeglass Holders? Visit: http://www.nifty-nifty.com/italian-best-magnetic-eyeglass-holders/.
These super strong magnetic eyeglass holders are entirely fabric-friendly, adhering to one's shirt, pocket, blazer, backpack or even necktie, by placing the strong magnetic portion on the inside, and the intricate 'Unique Classique' portion on the outside. The holders boast a small hoop, from where the eyeglasses, sunglasses or readers may be hung, simply, securely, and oh so stylishly.
Consumers can say goodbye to lost or misplaced eyewear, with Nifty-Nifty's Italian Best Magnetic Eyeglass Holders. They will never have to squint, fumble, or hunt down their eyewear again. Instead, they'll sport their specs closely- gorgeously, wherever they may go - Che bello!
About Nifty-Nifty.com 
Nifty-Nifty.com is the worlds leading online retailer of innovative, nifty products. The company specializes in online retailing of products such as the Specs In A Sec Magnetic Eyeglass Holders, Italian Magnetic Eyeglass Holders, Phubby, Cell-Fie HipBand Cellphone Holder, Biker Purses, Cross Body Cell Phone Purses, and other innovative online products at the best prices with no-charge shipping in the USA and Canada.
http://www.Nifty-Nifty.com 
Tel:858-24-2302