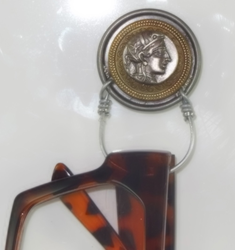 Italian Vintage Magnetic Eyeglass Holders are gorgeous enough to be worn by even non-eyeglass-wearing folks, as a decorative brooch and more ...
Hartford, CT (PRWEB) June 12, 2014
Nifty-Nifty.com, makers of innovative, 'As Seen on TV' products, is proud to announce the unveiling of their new line of Italian Best Vintage Eyeglass Holders. These brand new beauties combine classic European craftsmanship with fashion-forward panache, resulting in exceptionally striking and sensible accessories for eyeglass wearers.
What's great about these new designs, explains Nifty-Nifty co-founder, Wendy Miller, is that they are gorgeous enough to be worn even by non-eyeglass-wearing consumers, as a decorative brooch, tie clip, or handbag bobble. That said, there really is no better way to keep up with one's eyeglasses, sunglasses, or readers, than with these strong, magnetic, 'Unique Classique' holders, which are simple to use and entirely fabric-friendly.
For more information on Nifty-Nifty's Italian Best Vintage Eyeglass Holders visit http://www.nifty-nifty.com/italian-best-magnetic-eyeglass-holders/.
These must-have accessories, in new summertime designs, including, Serene Flower, Flower Power, and Rosie, adhere securely to one's clothing by placing the mighty magnet portion on the inside of the fabric, and the spectacularly decorative portion on the outside. Each holder boasts a perfectly-sized hoop from which to hang one's eyewear, ID, or fashion scarf, simply, securely and oh so stylishly.
No more worrying about losing (or worse, sitting on) one's eyewear. With Nifty-Nifty's Italian Best Vintage Eyeglass Holders, consumers can feel confident knowing their eyewear is just where it ought to be.
About Nifty-Nifty.com
Nifty-Nifty.com caters to a diverse clientele from all over the world. As the world's leading online retailer of innovative, versatile products, Nifty-Nifty.com specializes in nifty products such as Biker Purses, Phubby, Specs-In-A-Sec magnetic eyeglass holders, Cell-Fies and Cross Body Cell Phone Purses, among others. All products are offered at highly competitive prices with zero charge shipping in the USA and Canada.
http://www.Nifty-Nifty.com
Tel. 858-248-2302