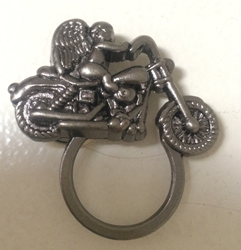 These magnetic eyeglass holders feature a biker (with wings) riding a motorcycle, and simply could not provide a better, more stylish place for bikers to hang their eyewear when not in use
Billings, MT (PRWEB) September 23, 2014
Nifty-Nifty.com, makers of one of a kind, hands-free fashion accessories, is ecstatic to unveil their brand new, biker-friendly, Specs-In-A-Sec Magnetic Eyeglass Holder Design.
"We at Nifty.Nifty.com have not been this excited about a new product design in some time", declares Nifty-Nifty.com co-founder, Wendy Miller. "These magnetic eyeglass holders feature a biker (with wings) riding a motorcycle, and simply could not provide a better, more stylish place for bikers to hang their eyewear when not in use."
To view the new Specs-In-A-Sec biker design, visit :
*http://www.nifty-nifty.com/specs-in-a-sec-best-magnetic-eyeglass-holder/
Specs-In-A-Sec Magnetic Eyeglass Holders, by Nifty-Nifty.com, are the fabric-friendly way for consumers to tote their eyeglasses, readers, or sunglasses, in an incredibly fashionable, worry-free way.
Utilizing Specs-In-A-Sec Magnetic Eyeglass Holders really does take just seconds. Simply place the super strong magnetic portion of the holder on the inside of a shirt, jacket, bag, or neck-tie, and the gorgeous, decorative portion on the outside, and never stress about misplacing or breaking another pair.
Nifty-Nifty.com's Specs-In-A-Sec, available in a multitude of attitudinal designs, including the brand new design for bikers, are also a fantastic fashion accessory for non-eyeglass wearers, as they are stunning enough to stand alone, or, to hang one's neck scarf, ID, pens, or trinkets, given the provided, perfectly sized, hanger-hoop.
Be bold. Be innovative. Be worry-free, with Nifty-Nifty.com's spectacular Specs-In-A-Sec Magnetic Eyeglass Holders.
About Nifty-Nifty.com 
Nifty-Nifty.com caters to a diverse clientele from all over the globe. As the world's leading online retailer of innovative, versatile products, Nifty-Nifty.com specializes in nifty products such as Biker Purses, Phubby, Specs-In-A-Sec magnetic eyeglass holders, Cell-Fie HipBand Cellphone Holders and Cross Body Cell Phone Purses, among others. All products are offered at highly competitive prices with zero charge shipping in the USA and Canada.
http://www.Nifty-Nifty.com
Tel. 858-248-2302