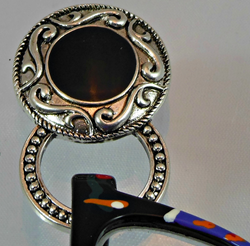 Specs In A Sec Magnetic Eyeglass Holders in a whopping thirteen unique varieties
San Antonio, TX (PRWEB) October 17, 2014
Nifty-Nifty.com, creators of celebrity-endorsed, hands-free fashion gadgets, are happy to announce that their Specs-In-A-Sec Magnetic Eyeglass Holders are currently being offered in thirteen very different, very Nifty, designs.
"We at Nifty-Nifty.com are thrilled to be offering our tremendously popular Spec-In-A-Sec Magnetic Eyeglass Holders in a whopping thirteen varieties," declares Wendy Miller, co-founder of Nifty-Nifty.com. "Each design is so unique, that every single consumer is sure to find one that's just right for them. From our too cool Biker design, to our ready for action Realtor design, to our ever so special, Peace Love design, there's honestly (at least) one style to suit everyone's taste."
Learn more about Nifty-Nifty.com's Specs-In-A-Sec Magnetic Eyeglass Holders, here:

Specs-In-A-Sec Magnetic Eyeglass Holders by Nifty-Nifty-com are hands down, THE best way to keep track of one's eyewear! These beautiful little baubles attach to clothing instantly, by placing the super strong magnetic portion on the inside of one's shirt or jacket, and the decorative portion on the outside. A single, perfectly sized hanger hoop secures one's eyeglasses, readers or sunglasses all day.
With Specs-In-A-Sec Magnetic Eyeglass Holders, consumers will always have their eyewear handy, and will never have to worry about losing, dropping, scratching, or sitting on another pair.
What's more, with so many sweet designs from which to choose, including: Color Butterfly, Red Hat, Brighton Heart, Gold Swirl, Black Circle, and many, many more - consumers will be able to select a look that's just right for them.
In addition, non-eyeglass wearers can enjoy the versatile Specs-In-A-Sec as well. These pretty, jewelry-inspired pieces are capable of standing alone, in place of a brooch, and are also handy for hanging one's fashion scarf, pens, trinkets, or ID badge.
Have a look at Nifty-Nifty.com's spectacular Specs-In-A-Sec selections today, and envision a worry-free, eyeglass-savvy future.
About Nifty-Nifty.com
Nifty-Nifty.com caters to a diverse clientele from all over the globe. As the world's leading online retailer of innovative, versatile products, Nifty-Nifty.com specializes in nifty products such as Biker Purses, Phubby Wrist Cellphone Holders, Specs-in-a-Sec magnetic eyeglass holders, Cell-Fie HipBand Cellphone Holders and Cross Body Cell Phone Purses, among others. All products are offered at highly competitive prices with zero charge shipping in the USA and Canada.
http://www.Nifty-Nifty.com 
Tel. 858-248-2302