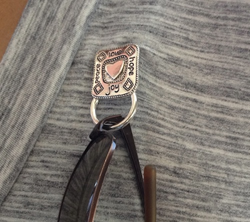 Specs In A Sec Magnetic Eyeglass Hangers are really taking off. We are so excited and so are our customers.
Topeka, KS (PRWEB) December 04, 2014
Nifty-Nifty.com, innovative gadget makers of 'As Seen on TV' fashion accessories, announce a significant upsurge in sales of their ultra-functional Specs-In-A-Sec Magnetic Eyeglass Holders.
"We at Nifty-Nifty.com are super excited to see our Specs-In-A-Sec Magnetic Eyeglass Holders really taking off. November marked a significant increase in sales for this super useful little product, which we suspect is directly due to its unsurpassed gift-ability," remarks Nifty-Nifty.com co-founder, Wendy Miller. "At this rate, Specs-In-A-Sec will no doubt finish at the top of the leader boards this holiday season."
Discover Nifty-Nifty.com's Specs-In-A-Sec Magnetic Eyeglass Holders,
*http://www.nifty-nifty.com/specs-in-a-sec-best-magnetic-eyeglass-holder/
Specs-In-A-Sec Magnetic Eyeglass Holders are decorative, fabric-friendly, eyeglass holders that attach directly to one's shirt or jacket, instantly. By simply placing the amazingly strong magnetic portion on the inside of fabric, and the decorative portion on the outside, one is afforded all day eyewear accessibility.
With the beautifully crafted Specs-In-A-Sec Magnetic Eyeglass Holders, consumers never have to worry about misplacing their eyewear again. The perfectly sized hanger hoop attached to each piece allows glasses to hang securely, right within reach, all day long, no matter the activity level.
Available in several dazzling designs, including: Peace Love, Gold Swirl, Silver Swirl, Black Circle, Color Heart, Red Hat, Abalone Flower, and others - the unisex Specs-In-A-Sec Magnetic Eyeglass Holders offer a myriad of options certain to satisfy each person's unique fashion sense.
Affordable, distinctive, and oh so sensible, Nifty-Nifty.com's Specs-In-A-Sec make the perfect gift item for those hard-to-buy-for folks on one's holiday gift list. Order today, and enjoy fast, no charge shipping throughout the U.S. and Canada, and a five dollar flat rate on international orders.
About Nifty-Nifty.com: Nifty-Nifty.com caters to a diverse clientele from all over the globe. As the world's leading online retailer of innovative, versatile products, Nifty-Nifty.com specializes in nifty products such as Biker Purses, Phubby, Specs-in-a-Sec magnetic eyeglass holders, Cell-Fie HipBand Cellphone Holders and Cross Body Cell Phone Purses, among others. All products are offered at highly competitive prices with zero charge shipping in the USA and Canada.
http://www.Nifty-Nifty.com 
Tel. 858-248-2302