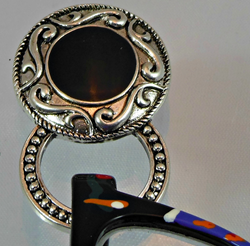 Visitors of this year's Phoenix Rusty Barn Quilt Show are in for a real eye-opener, as we introduce and exhibit how to utilize our consumer-favorite accessory, Specs-In-A-Sec Magnetic Eyeglass Holders
Phoenix, AZ (PRWEB) January 27, 2015
Nifty-Nifty.com, creators of revolutionary, hands-free fashion gadgets, is slated to demonstrate their remarkable magnetic eyeglass holders, Specs-In-A-Sec, Thursday, January 29th through Saturday, January 31st, 2015, at the Rusty Barn Quilt Show, in Phoenix, Arizona.
"Visitors of this year's Phoenix Rusty Barn Quilt Show are in for a real eye-opener, as we introduce and exhibit how to utilize our consumer-favorite accessory, Specs-In-A-Sec Magnetic Eyeglass Holders," asserts Nifty-Nifty.com co-founder, Wendy Miller. "Attendees will see for themselves just what makes these beautiful little baubles a must-have item for eyeglass, and or sunglass wearers."
Check out Nifty-Nifty.com's Specs-In-A-Sec Magnetic Eyeglass Holders, here …
*http://www.nifty-nifty.com/specs-in-a-sec-best-magnetic-eyeglass-holder/
Specs-In-A-Sec Magnetic Eyeglass Holders are the trendiest, most fabric-friendly way for consumers to keep up with their eyewear. By simply placing the super strong magnetic portion on the inside of one's shirt, blazer, or necktie, and the exquisitely decorative portion with hanger hook on the outside, one is able to achieve all day eyewear access in seconds.
Never again will consumers have to worry about lost or damaged glasses. With Specs-In-A-Sec, eyewear will stay put, within reach, all day long, allowing for instant access and peace of mind.
The handsomely designed and magnificently crafted Specs-In-A-Sec Magnetic Eyeglass Holders are available in a multitude of styles, with something to suit every man and woman's fashion sense. What's more, these multi-functional eyeglass holders are compact, lightweight, and easy to take anywhere, anytime.
Visit Nifty-Nifty.com at this year's Rusty Barn Quilt Show, and become convinced.
About Nifty-Nifty.com    
Nifty-Nifty.com caters to a diverse clientele from all over the globe. As the world's leading online retailer of innovative, versatile products, Nifty-Nifty.com specializes in nifty products such as Biker Purses, Phubby Wrist Cellphone Holders, Specs-in-a-Sec magnetic eyeglass holders, Cell-Fie HipBand Cellphone Holders and Cross Body Cell Phone Purses, among others. All products are offered at highly competitive prices with zero charge shipping in the USA and Canada.
http://www.Nifty-Nifty.com 
Tel. 858-248-2302