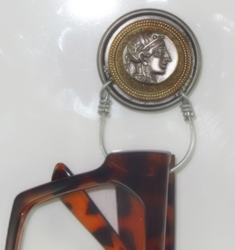 Our New Italian Magnetic Eyeglass Holder Designs Are Simply Bellissimo
VT NH, ME (PRWEB) May 05, 2014
Nifty-Nifty,com is ecstatic to unveil their latest, greatest, Italian Best Eyeglass Holder designs. They are the perfect blend of classic and contemporary elements, and offer a handsome alternative to the blasé, no-frills, traditional eyeglass holders.
Says celebrity-endorsed Nifty-Nifty.com's co-founder, Wendy Miller, we have recently added even more wow-power to the already existing (Limited Edition) Italian Best Magnetic Eyeglass Holder collection, with brand new eye-popping styles, including; Pearl Scroll, Brassy Swirls, Girly, Lacy Diagonal, and Serene, selections, continues Wendy.
Discover more about Italian Best Eyeglass Holders, here:
*http://www.nifty-nifty.com/italian-best-magnetic-eyeglass-holders/
These super strong magnetic eyeglass holders are entirely fabric-friendly, adhering to one's shirt, pocket, blazer, backpack or even necktie, by placing the strong magnetic portion on the inside, and the intricate 'Unique Classique' portion on the outside. The holders boast a small hoop, from where one's eyeglasses, sunglasses or readers may be hung, simply, securely, and oh so stylishly.
Consumers can say goodbye to lost or misplaced eyewear, with Nifty-Nifty's Italian Best Magnetic Eyeglass Holders. They will never have to squint, fumble, or hunt down their eyewear again. Instead, they'll sport their specs closely- gorgeously, wherever they may go - Che bello!
About Nifty-Nifty.com 
Nifty-Nifty.com is the worlds leading online retailer of innovative, nifty products. The company specializes in online retailing of products such as the Specs In A Sec Magnetic Eyeglass Holders, Italian Magnetic Eyeglass Holders, Phubby, Cell-Fie HipBand Cellphone Holder, Biker Purses, Cross Body Cell Phone Purses, and other innovative online products at the best prices with no-charge shipping in the USA and Canada.
http://www.Nifty-Nifty.com 
Tel:858-248-2302