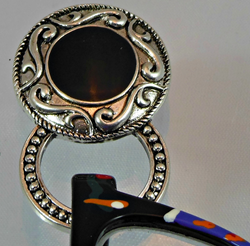 New Specs-In-A-Sec Magnetic Eyeglass Holder designs are coming soon.
Princeton, NJ (PRWEB) August 14, 2014
Nifty-Nifty.com, creators of incomparably innovative hands-free gadgetry, has recently announced that they will soon be unveiling a new series of 'must see' Specs-In-A-Sec Magnetic Eyeglass Holders.
"We at Nifty-Nifty.com are once again updating our inventory, this time, to include brand new additions to our lovely Specs-In-A-Sec Magnetic Eyeglass Holder collection. These special little fashion gadgets are great sellers among eyeglass wearers, and we'd like to provide even more style options for our dedicated clientele, as well as those who are visiting our site for the first time," says Nifty-Nifty.com co-creator, Wendy Miller. She adds, "Innovations are well underway, and we encourage consumers to keep a close eye on our website for updates."
Check out Nifty-Nifty.com's Specs-In-A-Sec Magnetic Eyeglass Holders, here: *http://www.nifty-nifty.com/specs-in-a-sec-best-magnetic-eyeglass-holder/.
Specs-In-A-Sec Magnetic Eyeglass Holders are the superlative way for consumers to keep track of their eyeglasses, readers, or sunglasses. By simply placing the magnetic portion on the inside of one's shirt or jacket, or on the backside of one's neck tie, and the decorative portion with hanger hoop on the outside, consumers are provided with all day, hassle-free, eyewear accessibility.
These little ditties or so pretty, many non-eyeglass wearers have purchased them to wear in place of a stick pin or broach. Unlike the former, the fabric-friendly Specs-In-A-Sec will never puncture or damage fabric, and their versatility allows for many other unique options, including; scarf holder, ID holder, pen holder, or personalized trinket bauble.
Be sure to visit Nifty-Nifty.com often, as the brand new Specs-In-A-Sec selections will be launching soon.
About Nifty-Nifty.com 
Nifty-Nifty.com is the world's leading online retailer of innovative, nifty products. The company specializes in online retailing of products such as the Cell-Fie, Phubby, Cross Body Cell Phone Purses, Biker Purses and other innovative online products at the best prices with no charge shipping in the USA and Canada.
http://www.Nifty-nifty.com 
Tel. 858-248-2302