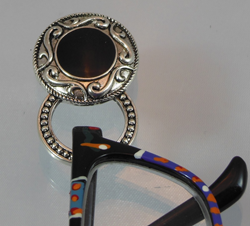 Beach-goers are loving their Specs-In-A-Sec Magnetic Eyeglass Holders to hold their sunglasses and readers.
Boston, MA (PRWEB) July 10, 2014
When it comes to fashionable fun in the sun, Nifty-Nifty.com has got consumers covered. Simply slip into a favorite swimsuit, grab a pair of sunglasses, a book, add Specs-In-A-Sec Magnetic Eyeglass Holders, and, voila. The hands-free beach bonanza begins.
"We at Nifty-Nifty.com are encouraging beach bunnies to turn their swimwear into swimwow this summer, with our lovely, multi-functional Specs-In-A-Sec Magnetic Eyeglass Holders," says Wendy Miller, co-founder of Nifty-Nifty.com and Nifty products. "By adding Specs-In-A-Sec to one's beachwear," continues Miller, "consumers will always have a handy place to hang their sunglasses when it's time to settle down on a towel with a good book."
Check out Nifty-Nifty.com's Specs-In-A-Sec Magnetic Eyeglass Holders here: http://www.nifty-nifty.com/specs-in-a-sec-best-magnetic-eyeglass-holder/.
Specs-In-A-Sec Magnetic Eyeglass Holders by celebrity-endorsed Nifty-Nifty.com are a fabric-friendly way to tote one's eyewear when not in use. Just place the amazingly strong magnet portion on the inside of the material, and the gorgeously decorative portion on the outside. Eyewear hangs securely from the superbly designed hoop, and is readily accessible in an instant.
With Specs-In-A-Sec, consumers are able to bedazzle a bikini, add pizzazz to a one-piece, or, for the fellas, add an element of funk to their trunks - and seriously, how Nifty is that?
About Nifty-Nifty.com  
Nifty-Nifty.com caters to a diverse clientele from all over the world. As the world's leading online retailer of innovative, versatile products, Nifty-Nifty.com specializes in nifty products such as Biker Purses, Phubby, Specs-In-A-Sec magnetic eyeglass holders, Cell-Fies and Cross Body Cell Phone Purses, among others. All products are offered at highly competitive prices with zero charge shipping in the USA and Canada.
http://www.Nifty-Nifty.com 
Tel. 858-248-2302