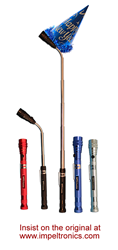 The timing of Motoweek was just right, before the major holiday.
Lewisberry, PA (PRWEB) January 06, 2014
Impeltronics announces today that their Extendable Magnetic LED Flashlight is a holiday hit and a "Bright Idea" for the coming New Year. Earlier in 2013 the company's product has been endorsed on an NBC Bay Area's TV news cast called "Gadget Friday", Hunt Fish Talk Radio and most recently another television show segment called Goss's Garage on Public Television's MotorWeek. These recent endorsements have been the catalyst in the company's recent success selling the product. "The timing of MotorWeek was just right since it aired before the major holiday rush," says Impeltronics Vice President of Sales.
The product is very unique in the fact that it is like having three products in one. The device is an LED flashlight that extends to nearly two feet long with a magnet on both ends of the unit. The magnet on the bottom can lift up to 8 pounds and there is also a magnet on the light head that is very convenient for retrieving metal objects in hard to reach places. This original Impeltronics Telescoping flashlight can only be found on its website and the current distributors.
Earlier this year the product was featured by NBC's Gadget Friday, a short newscast segment about clever new gadgets that are helpful and innovative. Scott McGrew, the show host, explains that "you can find things when you've lost them down in the car" he said showing the flashlight's ability to extend into tough to reach places. I think that's really kinda fun" adding that the magnetic ends are "really strong."
The product was also featured earlier this year by Hunt Fish Talk Radio hosted by Mike Ridings. He seemed to really like the extendable telescoping feature that allows users to locate and retrieve metal objects that are in sight but unable to reach.
The most recent endorsement that exploded the successful holiday sales came from a short clip on MotorWeek named Goss' Garage. The bit goes on to demo the product in action, which has been a major contributing factor that really influenced much of the 4th quarter sales. "Once the flashlight is demoed, the next thing people want to know is where to buy it" explained a company representative.
Find the original at http://www.impeltronics.com/products/extendable-telescoping-magnetic-flashlight/.
Media Contact
Michael Pastal
717-440-1680
mpastal (at) impeltronics (dot) com