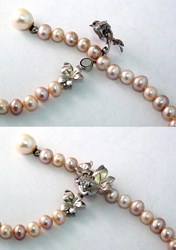 simplicity has made the clasps stand out
Syracuse, NY (PRWEB) August 30, 2013
Treasure Hut Jewelry, a unique, handmade jewelry provider, is proud to announce newly patented magnetic jewelry clasps. Incredibly easy to fasten, the custom magnetic clasps are designed in three elegant patterns: a custom leaf, a custom rose and a custom butterfly. The company can also produce any custom pattern upon request.
Business owner and inventor Harry Stewart, who has more than 35 years of experience in the jewelry business, carefully developed the magnetic jewelry clasps over a period of three years. Constructed of sterling silver and coated with a rhodium finish, the jewelry clasps can be purchased with a contrasting bright and satin finish.
The simplicity of the magnetic jewelry clasps has made the product stand out during test market experiments over the past two years. Perfect for those who have a difficult time putting on jewelry, including those who suffer from arthritis, the clasp design makes fastening necklaces and bracelets easy and simple.
Additionally, the incredible clasps hold better than other magnetic clasps because the beads won't pull directly on the magnet. Flexible options have also impressed initial customers. The leaf clasp includes a larger circle, which is useful for larger jewels, while the rose clasp is perfect for smaller sized jewels. Abstract shapes of beads can also be accommodated with the clasps.
Providing a wonderful makeover and accessory for jewels and pearls, the clasps can compliment any bracelet or necklace.
To find out more about the magnetic jewelry clasp from Treasure Hut Jewelry, visit http://www.treasurehutjewelry.com/.
Media Contact
Harry Stewart
sales(at)treasurehutjewelry(dot)com