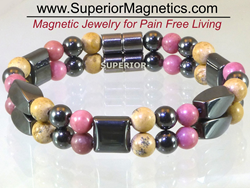 We are excited to make our magnetic bracelets by hand for customers
Louisville, Kentucky (PRWEB) August 01, 2013
Pain Free Living web: SuperiorMagnetics.com, a leader in developing innovative pain relief products announced a new magnetic bracelet made with Picture Jasper and Rhodonite gemstones. This magnetic bracelet uses the strongest triple strength hematite magnetic beads. Customers often report significant pain relief with this new magnetic bracelet during a brief demonstration at fairs and festivals.
"We have provided pain relief using magnetic bracelets for 12 years," explained Shu Arvilla of SuperiorMagnetics.com, "we are excited to make our magnetic bracelets by hand for customers. Our gemstone magnetic bracelets are both beautiful and highly effective at relieving pain. These magnetic bracelets are available at SuperiorMagnetics.com to anyone that is unable to visit us at our shows."
For more information, go to: http://www.superiormagnetics.com/magnetic-bracelets/.
What is a magnetic bracelet and what are the magnetic bracelet benefits?
A magnetic bracelet is a therapeutic piece of jewelry, worn for the benefits the magnetic field can offer. According to William Philpott M.D. in his book, Magnet Therapy: An Alternative Medicine Definitive Guide, the North Pole magnetic field has the following effect on living metabolic systems: "it provides oxygen to the cells"; "it relieves, stops pain and other symptoms", as pain is usually a symptom of an imbalance in pH and/or inflammation of the area; "it normalizes acid and alkaline balance," sore or stiff muscles, chemical hypersensitivity and many disease states are highly acidic.
About SuperiorMagnetics.com magnetic bracelets for Pain Free Living
Pain Free Living has provided magnetic bracelets for pain relief for 12 years relieving pain at street fairs and festivals. Now you can buy their innovative magnetic bracelets online at SuperiorMagnetics.com.
Contact Superior Magnetics for Pain Free Living magnetic bracelets:
Web: http://www.superiormagnetics.com
Tel: +1 909 336-7514