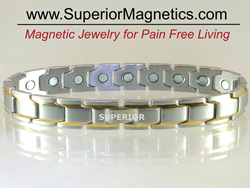 This new bracelet relieves pain in seconds.
Atlantic City, New Jersey (PRWEB) March 19, 2014
Pain Free Living web: SuperiorMagnetics.com, a leading company in the development of alternative pain relief products is excited to announce a new magnetic therapy bracelet. The newest magnetic therapy bracelet uses N52 the strongest neodymium magnet manufactured. Within seconds of wearing this fast acting magnetic bracelet customers frequently report a reduction in pain.
"Magnetic therapy bracelets are one of the most effective treatments for arthritis," explained Shu Arvilla of Superior Magnetics, "this new bracelet relieves pain in seconds during our demonstration. For those unable to have pain relief demonstrated at a show, our magnetic bracelets are available on our website."
For information on the new magnetic bracelet, go to: http://www.superiormagnetics.com/magnetic-bracelets/.
What is a magnetic therapy bracelet and what are the benefits?
William Philpott M.D. in his book, Magnet Therapy: An Alternative Medicine Definitive Guide, documents the North Pole magnetic field to have the following effects: it normalizes acid and alkaline balance, provides oxygen to the cells and relieves, stops pain and other symptoms.
A magnetic therapy bracelet is a piece of jewelry worn for its therapeutic benefits. Many people have worn magnetic bracelets for pain relief of inflammatory conditions such as arthritis, tendinitis and bursitis.
About Superior Magnetics
Pain Free Living has used Superior Magnetics magnetic bracelets for over a decade providing pain relief at fairs and festivals. Superior Magnetics developed this new magnetic therapy bracelet with the strongest magnets for faster relief and it is available online.
Contact Superior Magnetics
Web: http://www.superiormagnetics.com
Tel: +1 909 336-7514