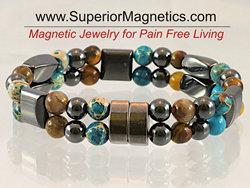 Look beautiful and relieve pain.
Atlanta, Georgia (PRWEB) June 12, 2014
SuperiorMagnetics.com, a magnetic jewelry designer and developer of magnetic pain relief products for Pain Free Living announced a new gemstone magnetic bracelet for pain relief. This new gemstone magnetic bracelet uses the triple strength hematite magnetic beads combined with Imperial Jasper and Yellow Tiger Eye. While wearing the magnetic bracelet during a brief demonstration customers often report pain relief in seconds.
"Pain Free Living has relieved pain at fairs and festivals for over 12 years," explained Shu Arvilla of SuperiorMagnetics.com. "Our magnetic bracelets are handmade and custom designed with mixtures of gemstones. Our gemstone magnetic bracelets are both beautiful but great at relieving pain. These magnetic bracelets are available online to anyone that cannot visit us at one of our shows."
For more information go to:
http://www.superiormagnetics.com/magnetic-bracelets/
What is a magnetic bracelet and what are the magnetic bracelet benefits?
According to William Philpott M.D. the North Pole magnetic field provides oxygen to the cells, relieves and stops pain and normalizes acid and alkaline balance. A magnetic bracelet is a therapeutic piece of jewelry, worn for the benefits the magnetic field can offer. Tim Harlow, general practitioner, Adrian White, senior research fellow, Colin Greaves, research fellow, Liz Brown, research assistant, Anna Hart, statistician, Edzard Ernst, professor of complementary medicine ran a randomized, placebo controlled trial with three parallel groups and came to the conclusion: Pain from osteoarthritis of the hip and knee decreases when wearing magnetic bracelets.
About Pain Free Living
Pain Free Living developed the Superior Magnetics brand to provide pain relief in seconds at street fairs and festivals. Pain free Living has provided hands on pain relief at fairs and festivals for 12 years. Now you can buy their innovative magnetic bracelets online.
Contact Superior Magnetics
Web: http://www.superiormagnetics.com
Tel: +1 909 336-7514