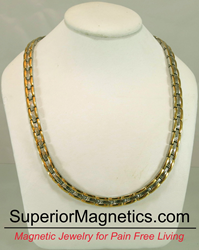 When the pharmacist heard how much I was taking he suggested using a magnetic necklace.
Knoxville,Tennessee (PRWEB) March 10, 2014
Superior Magnetics announced a new magnetic necklace for pain relief and the prevention of both headaches and migraines. The FDA recently approved pulsed magnetic therapy for migraines but the treatment is expensive and requires continued visits. ​Superior Magnetics magnetic necklaces have been used for years for relieving pain caused by migraines. This new magnetic necklace is the strongest and fastest acting magnetic necklace using 5000 gauss magnets. Many customers have reported pain relief in the neck and shoulders and a significant reduction of migraines.
"I suffered from chronic migraines and lived on Motrin and Aleve," explained Cricket Arvilla of SuperiorMagnetics.com. "When the pharmacist heard how much I was taking he suggested using a magnetic necklace. I figured I have nothing to lose. I have been headache free by using magnetic necklaces for over 12 years. Many of our customers use the magnetic necklace to prevent headaches as well as relieving pain in the neck and shoulders. This magnetic necklace is available online to our customers that are unable to visit us for a demonstration at a fair and festival."
For more information on magnetic therapy for migraines go to: http://www.superiormagnetics.com/magnetic-necklaces/.
What is a magnetic necklace and what are the benefits?
Magnetic necklaces are worn for the therapeutic benefits of the magnetic. The magnetic field of the North Pole provides oxygen to the cells, relieves, stops pain and other symptoms and normalizes acid and alkaline balance according to William Philpott M.D. "Magnet Therapy: An Alternative Medicine Definitive Guide". Magnetic necklaces are best for headaches and migraines as well as pain relief of arthritis in the neck and shoulder area.
About Pain Free Living with Superior Magnetics
Pain Free Living has performed pain relief using magnetic necklaces for 12 years at fairs, festivals and home shows. Pain Free Living has developed a great deal of experience with magnetic therapy. Now you can buy their innovative magnetic necklaces online.
Contact Superior Magnetics for Pain Free Living
Web: http://www.superiormagnetics.com
Tel: +1 909 336-7514