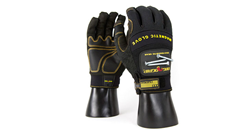 Our proprietary Maximum Feel fingertip design allows for pick up of small items without removing glove.
Farmers Branch, TX (PRWEB) December 22, 2014
TheHardwareCity.com now stocks MagnoGrip Pro Utility Magnetic Glove, the revolutionary work glove with many useful features. Customers of the large online tool shop enjoy a 32% savings and can have the new gloves delivered to their home or workplace with free shipping.
MagnoGrip manufactures work gear and hand tools that incorporate heavy duty magnets, which make work easier. The patented MagnoGrip Pro Utility Magnetic Glove allows workers to store metal parts on the back of their hand, including nails, drill bits, screws, nuts, bolts, and more. The handyman accessory ensures that workers will not lose important pieces on the job. Small metal tools and fasteners no longer have to be stored in pockets or belts and dug out when needed. They can be located right on the hand.
The gloves are made with MagnoGrip's proprietary Maximum Feel fingertip design. Wearers are able to utilize their hands to grab small objects without having to remove their gloves. Since Touchscreen Technology is integrated in the design, wearers are able to use tablets or smartphones while wearing the gloves, saving them time while on the job or performing a home improvement task.
While proving to be very useful, the high-tech gloves are also very comfortable to wear, and they include a 4-way stretch spandex back, creating a snug fit. To order the new gloves and receive free shipping, visit http://www.thehardwarecity.com/products/002-696-Pro-Utility-Magnetic-Glove---Large/T003512.
About TheHardwareCity.com:
Since 2007, TheHardwareCity.com has grown and proven to be a top online supplier of all things needed for home improvement projects. Customers are able to have items and tools conveniently delivered to their home or office, and many products are granted free shipping. The store continues to expand its catalog at http://www.thehardwarecity.com/. Customer service representatives are available to answer questions concerning any product through the website's online chat.