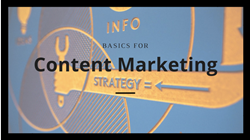 Content marketing...is about creating content that is valuable, compelling, and always relevant.
Austin, TX (PRWEB) April 12, 2017
Magnificent Marketing is excited to announce that they've teamed up with expert Joe Pulizzi of the Content Marketing Institute on a webinar featuring the new basics of content marketing.
1. The Evolution of Content Marketing
Content marketing is used to attract and retain customers. It is about creating content that is valuable, compelling, and always relevant. In addition, it is about consistency.
Over the years, content marketing has evolved into something that demands better quality and more engaging material. In this webinar, Pulizzi highlights the fact that content marketing is hundreds of years old, and it has been around much longer than the internet. In fact, he shared the example of The Furrow magazine from John Deere. That magazine has been in production for 120 years and has more than 5 million subscribers.
When Google tightened the strings on search engines and the content recommended by those search engines, social media started to play a role, and more importantly, the consumer took the reins. Now content is individually driven by the consumer—not the marketer.
Consumers can access information when they want it, regardless of where they are, thanks to their smartphones and tablets. No longer can companies or marketers just tell a customer to buy; instead, they need to flex their advertising power, engage the short attention span of today's consumer, and dive deep into "why" they should buy.
2. Content Marketing is Only as Good As the Investment
Content marketing has not been around as long as other forms of marketing like press releases, referrals, and advertisements. However, content marketing offers a company a competitive advantage. That is, only if that company invests in content marketing.
To receive anything in return from content marketing, a company must invest.
Investing is not just about money, either. It includes:

Investing time into the strategy
Building an email subscription list
Researching and finding keywords for search engines
Optimizing content with those keywords
Building and maintaining an audience for the content
Creating a following on social media
There is a timeframe to earn a valuable ROI on content marketing. It is about patience, setting realistic goals, and investing as much as possible to receive the highest return.
3. Content Marketing as the Best Tool for SEO
Content marketing, according to Pulizzi, is the strongest tool in a company's arsenal for building their search engine optimization. From link building to generating keyword rankings, content marketing is the biggest driver for succeeding in those areas.
The webinar also highlights and explains six best practices for content marketing. To learn more about the new basics of content marketing and these six practices, check out the webinar on Magnificent's YouTube channel and, with an accompanying blog, on Magnificent.com. Click here to watch now!
About Magnificent Marketing:
Magnificent Marketing is your full-service content marketing agency that will take care of all your marketing needs so that you can concentrate on the core duties needed to manage and grow your business.
Their objective is to generate leads that turn into customers while focusing on expanding the visibility of your company and brand, and positioning you to be "top of mind" for future potential clients.
In order to achieve this, they draw on their experience and belief that a mixture of traditional marketing techniques combined with modern marketing tools will yield the best results. In other words, they blend old and new school marketing to create the best school of thought.
About Joe Pulizzi:
Joe Pulizzi is the founder of Content Marketing Institute, the leading education and training organization for content marketing, which includes the largest in-person content marketing event in the world, Content Marketing World. Joe is the winner of the 2014 John Caldwell Lifetime Achievement Award from the Content Council. Joe's fourth book Content Inc. was just released. His third book, Epic Content Marketing was named one of "Five Must-Read Business Books of 2013" by Fortune Magazine. If you ever see Joe in person, he'll be wearing orange.