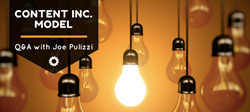 The webinar features Pulizzi breaking down the most important parts of his newest model, and presenting marketers with key tenants and strategies for successful content marketing.
Austin, TX (PRWEB) July 26, 2016
Magnificent Marketing is excited to announce that they've teamed up with content marketing expert Joe Pulizzi of the Content Marketing Institute to publish a new webinar.
In this webinar (and the accompanying blog), Magnificent CEO David Reimherr sits down with Pulizzi to discuss the Content Inc. Model, a new model for content marketing.
The two cover the following subjects:

Why content marketing works for small and large businesses
Six steps for a successful content marketing approach
Eight ways to monetize a business
How to build a content strategy over time
An option for a short term, 6-month alternate program
Sculpting a buyer persona
Crafting a content marketing mission statement
And more
The webinar is currently available on Magnificent's YouTube channel and, along with the accompanying blog, on Magnificent.com. Click here to watch it now.
About Magnificent Marketing:
Magnificent Marketing is your full-service content marketing agency that will take care of all your marketing needs so that you can concentrate on the core duties needed to manage and grow your business.
Their objective is to generate leads that turn into customers while focusing on expanding the visibility of your company and brand, and positioning you to be "top of mind" for future potential clients.
In order to achieve this, they draw on their experience and belief that a mixture of traditional marketing techniques combined with modern marketing tools will yield the best results. In other words, they blend old and new school marketing to create the best school of thought!