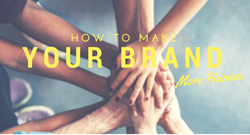 To get the customers one really wants, it's not about a huge marketing budget or professionally created videos. What's more important is a brand that is human, real and completely approachable.
Austin, TX (PRWEB) November 15, 2017
Many business owners scared of seeming unprofessional and of addressing complaints of customers in view of the general public. They're also afraid they don't have the million-dollar marketing budget they think is necessary to get the customer base that they desire.
While on the surface, these fears seem totally rational, they're actually holding business owners back and preventing them from creating truly successful companies. These fears make creating a personable, approachable brand nearly impossible. And this type of brand is exactly what potential customers are searching for. To get the customers one really wants, it's not about a huge marketing budget or professionally created videos. What's more important is an improved brand that is human, real, and completely approachable.
Magnificent Marketing - an Austin-based content marketing agency - has teamed up with expert social marketing strategist Ted Rubin to present a new webinar featuring techniques for humanizing a brand to attract customers.
In this webinar, Rubin discusses how to create a brand that makes customers truly happy and ready to spread the word about a business. He explains the following:

Giving employees leeway
Putting guidelines in place
Using social media to one's advantage
Understanding how happy customers can become influencers
And more
The webinar is available on Magnificent's YouTube page and website, or by clicking here.
About Magnificent Marketing:
Magnificent Marketing is your full-service content marketing agency that will take care of all your marketing needs so that you can concentrate on the core duties needed to manage and grow your business.
Their objective is to generate leads that turn into customers while focusing on expanding the visibility of your company and brand, and positioning you to be "top of mind" for future potential clients.
In order to achieve this, they draw on their experience and belief that a mixture of traditional marketing techniques combined with modern marketing tools will yield the best results. In other words, they blend old and new school marketing to create the best school of thought.
About Ted Rubin:
Ted is a leading social marketing strategist, keynote speaker, brand evangelist, acting CMO of Brand Innovators and the co-founder of Prevailing Path. In March 2009 he started using and evangelizing the term ROR, Return on Relationship, hashtag #RonR. Ted left his position as Chief Social Marketing Officer of Collective Bias on August 31, 2013. He remained a principal shareholder until the November 2016 acquisition by Inmar.